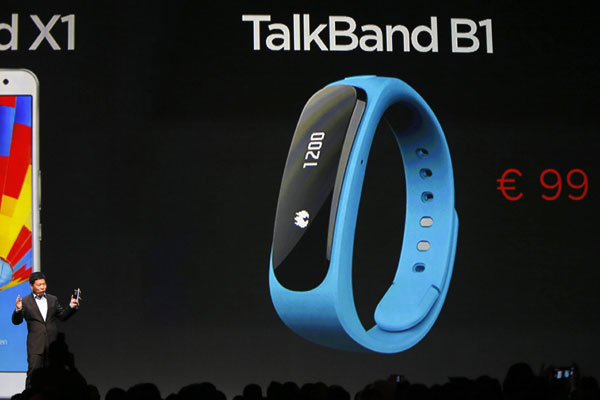 Huawei CEO Richard Yu talks about the TalkBand B1 during a Huawei presentation before the start of the Mobile World Congress in Barcelona, February 23, 2014. [Photo/Agencies] 
Chinese telecom giant Huawei Technologies Co Ltd has shown faith in the fledgling smart wearable market with the world's first hybrid smart band for both Bluetooth calling and fitness tracking.
Shenzhen-based Huawei demonstrated TalkBand B1 at the Mobile World Congress held in Barcelona, Spain, on Sunday.
The smart band, which is worn on the wrist, has a 1.4-inch, flexible organic light-emitting diode (OLED) display and removable earpiece.
Huawei said the device can connect to people's smartphones so they can stay updated with all the information they need with just a quick glance.
The TalkBand B1's fitness tracking feature can record how many steps one has taken, what one's sleep quality is and how many calories one has burned, according to Huawei.
The product will be available for 99 euros ($136) and be out in China next month, whereas Japan, the Middle East, Russia and Western Europe will have to wait until the second quarter of 2014.
Richard Yu, chief executive officer of the Huawei consumer business group, said the company needs to start early in order to acquire a good position in the wearable device industry.
"Because (the smart band market) is new, manufacturers can only march forward by taking tentative steps," Yu said at a news briefing in Barcelona.
Huawei is not the first Chinese company to launch a smart wearable product.
ZTE Corp, Huawei's crosstown rival, released its first smart watch in Las Vegas at the Consumer Electronics Show in January.