46.6% Chinese willing to buy smartwatches: Report
Updated: 2013-11-06 13:43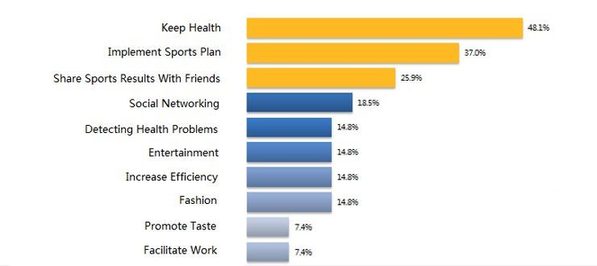 Wearable Device Functions Favored by Customers.[Photo/technode]
Wearable devices have become the most anticipated digital products after smatphone and tablets, although there is still a long way for manufacturers to commercialize them. This anticipation is demonstrated in a report recently released by Baidu with 93.1 percent of the interviewees is familiarized with this concept and 70 to 75 percent are willing to purchase.
Giving no consideration to prices, 49.3 percent and 46.6 percent of the customers may purchase smart bracelets and smart watches, two main categories of wearable devices, respectively, while 19.5 percent and 29.1 percent will definitely purchase one.
According to the report, 48.1 percent of the users hope wearable devices can help them to keep fit and 37 percent to overcome laziness and implement sports plans.
The report adds that users are interested in features such as body-sensing interactions and cross-platform cloud data. Customers look forward to more apps dedicated to wearable divides, rather than apps already available on smartphone.
Wearable devices already released by domestic manufacturers are Shanda's Geak Watch, Qihoo's 360 Child Guard, T-Watch, in-Watch, C-Watch, among others. Future wearable device market has abundant manufactures but in lack of a platform, like Android and iOS for smartphones, which enables all related wearable devices to operate and store data on it.
Research institution iiMedia predicted that the market size of Chinese wearable devices would reach 11.49 billion yuan ($1.87 billion) and the shipment would amount to 40 million sets by 2015. Wearable device mania swept the whole world, an Australian research institute predicted that one fifth of Austrlians would have one wearable device each in the future year, with shipment reaching 36 million sets.