'Super Mario' saves his best for last
Updated: 2014-02-24 07:35:50
( China Daily) Agence France-Presse in Rosa, Khutor, Russia
Two generations collided on a treacherous Russian slalom slope on Saturday with Austrian Mario Matt fighting off two young guns to become the oldest winner of an Olympic Alpine skiing gold.
With favorites careering off in all directions from a rutted course resembling a battlefield, the 34-year-old former world champion used every ounce of his experience to edge out his teammate, Marcel Hirscher, 10 years his junior, by 0.28 sec.
Norway's Henrik Kristoffersen also snapped at Matt's heels during a floodlit second run which five of the last 10 down failed to finish, the 19-year-old taking a bronze to become the youngest man to win an Alpine skiing Olympic medal.
As Matt celebrated a glorious finale to an all-too-brief Olympic career, some of the other favorites were grumbling about the 64-gate course set by Croatian Ante Kostelic.
American Ted Ligety was sixth after the first run which Matt won by 0.45 sec from Swede Andre Myhrer, but lurched out in his later run as the DNF's piled up on the scoreboard.
"The snow is just really bad and Ante set a really difficult, typical Ante course set which is borderline unsportsmanlike to set those kinds of courses in these kind of hills," said giant slalom champion Ligety as feelings ran high on the last day of Alpine competition at the Games.
Matt also questioned the set-up, saying he had never seen so much mayhem, but said he had just "got to grips with it".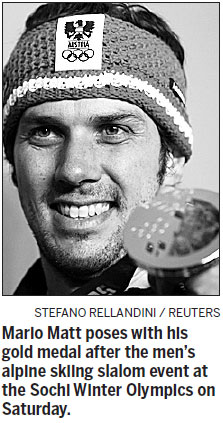 Incredibly for a man boasting two slalom world titles and 14 World Cup victories in the discipline his only previous Olympic experience came eight years ago in Turin when he failed to even finish a leg in the race.
Injuries ruled him out in 2002 and 2010 but he arrived in Russia determined to finally make his mark.
"It is my last Olympics," Matt, nicknamed 'Super Mario' by his fans, said. "Before the run I just said focus on your skiing and the rest would happen, it is amazing."
Asked about becoming the oldest Olympic skier to win gold at the age of 34 and 10 months, he said: "I don't feel old, it is incredible. My body still works.
"I had more problems in 2007. I have been doing this for 14 years and, yes, there are some days you think it is better to stop but I have stayed fast in training, had a good season, and I was really motivated coming here. It is incredible."
Kjetil Andre Aamodt of Norway held the previous record when he won the men's super-G in Turin, aged 34 and six months.
Hirscher, the reigning world champion and pre-race favorite, looked out of the running after a first run in which he was 1.28 sec slower than Matt, complaining about the soft snow that ploughed up into piles.
After World Cup title rival Kristoffersen, 15th quickest on the first run, took the lead in the second leg, Hirscher went full-throttle in a desperate, knee-pumping attempt to haul himself back into contention.
It paid off.
When Frenchmen Alexis Pinturault and Jean-Baptiste Grange, Germany's Felix Neureuther, Ligety and Vancouver bronze medalist Myhrer all came to grief, Hirscher began to dream.
"It is crazy!" Hirscher said. "I am really happy because these are not ideal conditions for me with slushy snow. To get the silver today in these conditions was almost impossible."
He also spoke of his admiration for the victor.
"It is his last Olympics and it was very well earned, I don't care it is fine. I think it is his last Olympics! Unless he is going to come back when he is 38."
While animal lover Matt may be indulging in his passion for riding is horses in four years time, Kristoffersen and Hirscher look set to be rivals for years to come.
"I feel pretty good right now," Hirscher said.
"It was the goal to be here at the Olympics and, hopefully, I have a few more to go."
Austria's one-two completed an impressive comeback for its men who failed to win a single medal in Vancouver.
They won two of the five men's disciplines on the Rosa Khutor slopes, helping the Alpine skiing powerhouse top the medals table with nine.
(China Daily 02/24/2014 page23)
China Daily in Sochi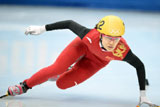 7
3
2
5
5
7
5
3
6
5
1
1
4
7
5
4
6
4