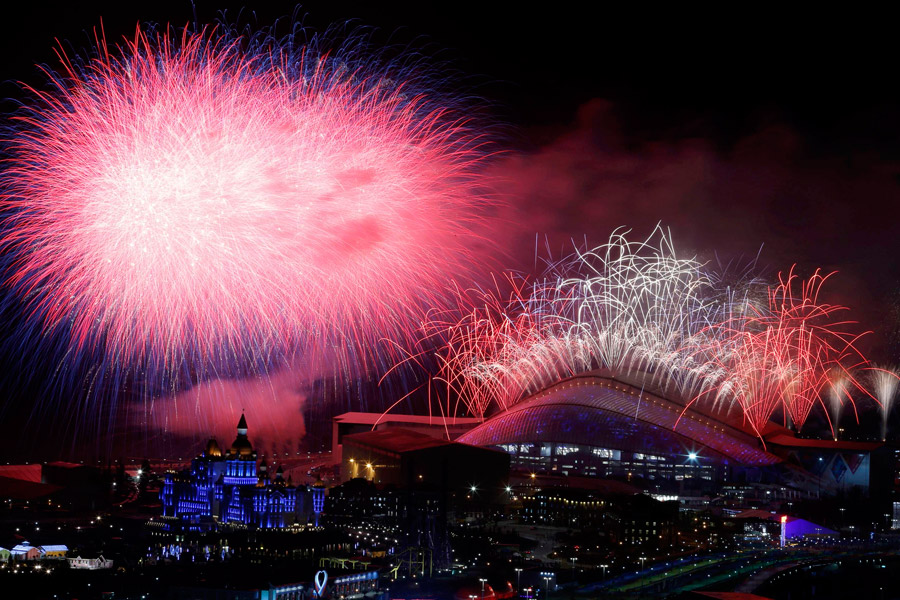 Fireworks explode over the Fisht Olympic Stadium during the closing ceremony for the 2014 Sochi Winter Olympics, February 23, 2014. [Photo/Agencies]
SOCHI - Russia has delivered on the promise of a "spectacular event" as the most expensive Olympics in history closed on Sunday night with doubts over the country's capabilities cleared and the host team basking in athletic achievements.
In a fitting end to the Sochi Winter Games, Alexander Legkov led Russia's podium sweep at the men's 50km cross country skiing and the host four-man bobsled team won a second gold, consolidating Russia's top place on the medal table - an ending few would have imagined after it finished only 11th in the 2010 Games.
Despite a few glitches including an unopened Olympic ring that marred the otherwise perfect opening ceremony, the Sochi Games was generally well-run.
International Olympic Committee (IOC) president Thomas Bach hailed the Sochi Olympics as a "great" Games without a single complaint from athletes.
Bach said on Sunday all participants had "overwhelmingly positive" response to the Games and they "loved" the venues and facilities.
"Whether you speak with the athletes, national Olympic committee, international federations, sponsors or broadcasters you hear a lot of praise for these Games," he said.
Bach's words are music to ears to the hosts, which have spent more than 50 billion US dollars on a world-class resort, six stadiums and long-term infrastructure improvements for the Sochi region.
Russia, according to Deputy Prime Minister Dmitry Kozak, has fulfilled every pledge made by President Vladimir Putin when he successfully bid for the Olympics in 2007 and promised a "really spectacular event".
Russia, shut out of top 10 with only three golds at last Games, proudly perched atop this time, having garnered 33 medals including 13 golds.
About one fourth of Russia's golds came from former South Korean Victor An, who won Russian hearts by sweeping three golds and one bronze to be the most successful athlete in Sochi.
An now has eight Olympic medals in total after also winning three golds and a bronze for South Korea in 2006.
Norway, spearheaded by Marit Bjergen and Ole Einar Bjoerndalen, came second overall with a 11-5-10 haul.
Bjoergen, 33, won a record sixth gold in the women's 30km mass start, equalling the record of Soviet speed skater Lidia Skoblikova and Russian cross country skier Lyubov Yegorova in taking six golds at Winter Olympics, the most by any woman.
Bjoerndalen became the greatest Winter Olympian in history by taking a record 13th medal. His eight winter Olympic golds tied compatriot Bjoern Daehlie's record.
Canada ranked third overall on its 10th gold from the 3-0 ice hockey victory over Sweden. It also swept two curling titles.
The United States was fourth with eight golds from snow and one from ice dancers Meryl Davis and Charlie White, followed by the Netherlands with eight golds, all from speed skaters who won 23 of the 36 medals on offer and taking a medal in all 12 events.
China finished 12th with nine medals including three golds, two golds less than in last Games, and remained the highest ranked Asian delegation, with South Korea placed 13th (3-3-2) and Japan 17th (1-4-3).
Apart from European and North American countries, only China, Japan, South Korea and Australia have struck gold in the winter Olympic history.