South Korea seeks inquiry into Kim's figure skating result
Updated: 2014-02-22 21:51:58
( Xinhua)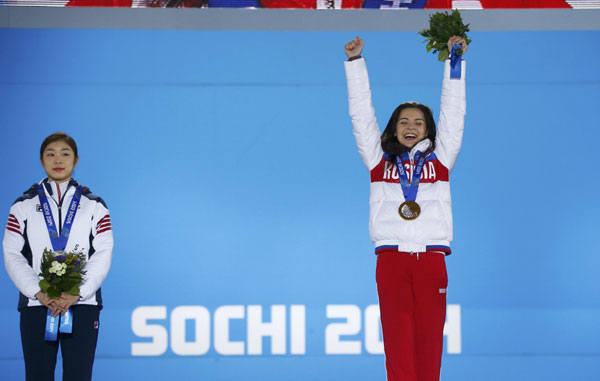 Gold medallist Russia's Adelina Sotnikova reacts as silver medallist South Korea's Yuna Kim looks on, during the victory ceremony for the figure skating women's free skating program at the 2014 Sochi Winter Olympics February 21, 2014.  [Photo/Agencies]
SOCHI - The South Korea Skating Union (KSU) has asked for an investigation into the judging that resulted in Vancouver champion Kim Yuna's being awarded silver behind Russia's Adelina Sotnikova in the ladies figure skating competition at the Sochi 2014 Olympic Games.
Sotnikova, 17, took gold ahead of 23-year-old Kim to become the first Russian to win gold in ladies free skating on Thursday.
The KSU issued a statement on Friday saying it had met with International Skating Union (ISU) President Ottavio Cinquanta of Italy and "officially requested to  confirm whether the figure skating ladies single competition was held fairly based on the ISU's regulations and procedures".
Mark Adams, the International Olympic Committee's director of communications, said South Korea's reaction as a "protest letter" and said it was a matter for  the skating union.
More than 1.7 million people have signed an online petition calling for an investigation into the scoring.
Although the majority of the signatures have come from Kim's homeland of South Korea, the Koreans are not alone in being unhappy with judging in figure skating at the Sochi Games.
United States skater Ashley Wwagner, who finished seventh in the ladies competition, said she felt cheated by the scoring of her performance after completing two programs without any major hitches or falls.
Calling for an end to anonymous judging, she said: "People don't want to see as sport where you see people fall down and somehow score above someone who goes clean."
China Daily in Sochi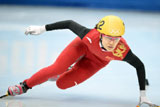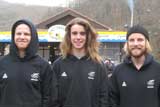 7
3
2
5
5
7
5
3
6
5
1
1
4
7
5
4
6
4