Weaker role of manufacturing is 'positive sign for economy'
Finance Minister Lou Jiwei has dismissed concerns that recent data showing a weakening manufacturing sector indicate a possible deep slide in the country's economic growth, saying a strengthening service sector points to a "reasonable restoration".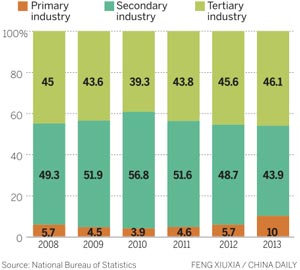 Responding to worries of a hard landing for China at a time of fragile global recovery, the outspoken minister said over the weekend that the past rapid expansion of China's manufacturing industry was "unsustainable".
He said the weaker role played by manufacturing in the past year is a positive sign for China's economy.
Speaking at a G20 meeting of finance ministers and central bank governors in Sydney, Australia, Lou said: "The manufacturing sector once took up nearly 60 percent of the economy and contributed to more than 50 percent of the global growth. This brought along pollution and overcapacity and is unsustainable."
"In 2013, the share of manufacturing fell while the share of service industries rose to 46 percent, exceeding that of manufacturing, and this is a reasonable restoration," he said.
China's manufacturing activities are likely to contract for a second consecutive month in February, reaching the lowest level in the seven months since July, British bank HSBC Holdings PLC said on Thursday.
The flash reading of the HSBC Manufacturing Purchasing Managers' Index is forecast to drop to 48.3 in February from 49.5 in January, and 50.5 in December, suggesting the underlying momentum for manufacturing growth is weakening.
Xu Hongcai, a researcher at China Center for International Economic Exchanges, said: "The index showed China's economy does face downward pressure, but this should not be overstated. A number of previously negative factors are diminishing: The catering and hotel industry has adapted to the impact of the government thrift campaign, and the reform agenda set by the central government will show its dividends this year."
In 2013, the moderate expansion in manufacturing was somewhat offset by the pickup in the service sector. Data from the National Bureau of Statistics showed that in 2013, the service sectors had managed to grow faster than the manufacturing sector. They expanded 8.3 percent over the previous year, whereas manufacturing grew by 7.8 percent.
Don't miss: