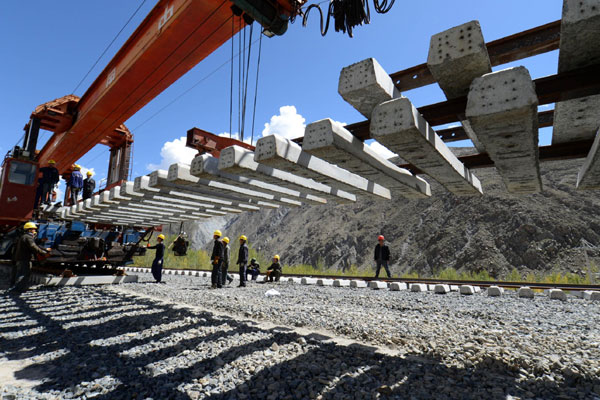 Workers are busy at a construction site of the railway linking Lhasa and Xigaze in Southwest China's Tibet autonomous region, Sept 24, 2013. [Photo/Xinhua]
LHASA - Lhasa, capital of southwest China's Tibet autonomous region, received nearly eight million tourists in 2013, regional tourism authorities revealed on Sunday.
Renowned as the "sun city," Lhasa saw a 22.76 percent year-on-year increase in tourist arrivals from China and overseas last year, said Dong Tianlin, an official with the local tourism bureau.
In 2013, tourism revenues in the city exceeded 8.2 billion yuan ($1.34 billion), up 25.47 percent on the previous year.
Dong said tourism has become one of the leading economic growth engines for the region.
Local tourism authorities and companies have figured out various ways to attract travellers in off-peak season, such as offering lower prices during the winter.
"For example, the ticket price for Potala Palace in the heart of Lhasa was cut by half to 100 yuan per person in winter," Dong said.
He added that another attraction might be special tourist itineraries, especially during important Tibetan festivals.
As Tibetan New Year or "Losar" approaches, falling on March 2 this year, tourists carrying cameras have begun to flock to the streets of Lhasa.
In order to help more tourists know Tibetan culture, major travel agencies in Lhasa said they are selling some specially designed packages for the new year, giving tourists a chance to visit Tibetan families, taste the new year feast, worship the sacred Jokhang Temple and attend a Sutra chanting ceremony.
"I have better understood Tibetan people by tasting their cuisine and sharing their festive mood," said tourist Li Daiyun from central China's Hunan Province as she tried on traditional Tibetan clothing in one of the city's streets.