March 5: Ministers' views from 'ministers' passage'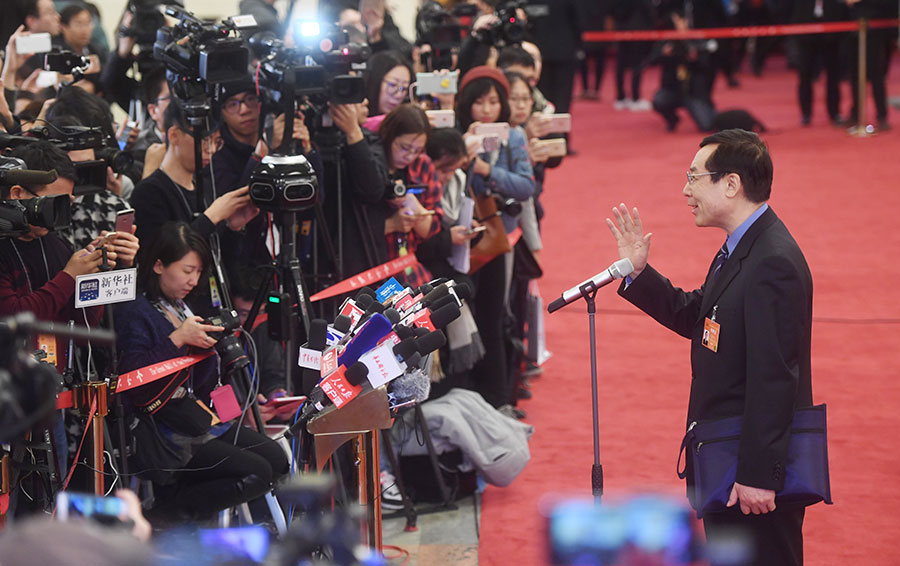 Bi Jingquan, chief of China Food and Drug Administration (CFDA), talks to media at "ministers' passage" in Beijing, March 5, 2017. [Photo/Xinhua]
Drug body to ease pain for foreign pharmaceutical firms
By Wang Xiaodong
There is a huge market potential for drugs and more foreign pharmaceutical companies should tap the sector, Bi Jingquan, chief of China Food and Drug Administration (CFDA), said on Sunday.
Bi said there are several reasons behind the shortage of new drugs in China, including the availability of the medicines in other countries.
Some of the other causes are: Strict drug inspection and approval policies, shortage in drug inspection and approval personnel at the CFDA, and concerns from some foreign pharmaceutical companies over intellectual property protection in China, which make them reluctant to sell new drugs in the country, he said.
The authorities will take measures such as streamlining approval procedures for drugs, intensify protection of intellectual property rights, and increase the staff for drug approval so that more new medicines are available in the market, he added.
The total number of staff for drug approval in China rose to 600 by the end of last year, while the number for the United States was 5,000, Bi said.
The number of drugs that await approval fell to 8,000 by the end of last year, due to measures taken to accelerate approval, he said.