Over 200 pterosaur eggs found in Xinjiang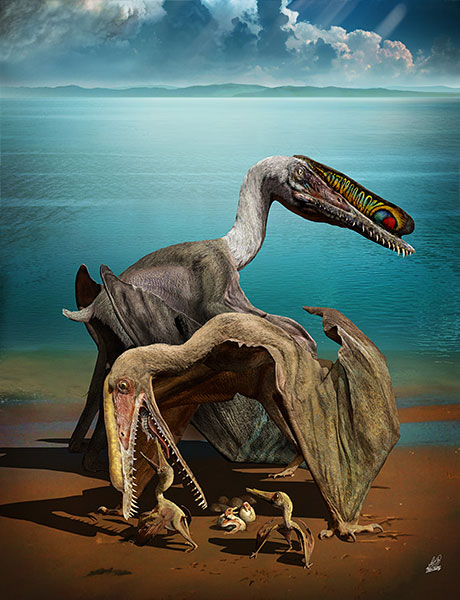 An artist's rendering depicts the Hamipterus tianshanensis, pterosaurs. [Photo/Zhao Chuang]
215 fossilized pterosaur eggs that lived more than 100 million years ago have been unearthed in Hami, Xinjiang Uygur autonomous region, with 16 of them first found with three-dimension preserved embryos inside, the paper.cn reported.
According to the new discovery published Friday on US journal Science, the fossilized pterosaur eggs were found in a three-meter-long sandstone block in the newly described "trove of pterosaur eggs" in Hami, by a team formed by Chinese and Brazil researchers during a long field survey lasting from 2006 to 2017. Before this, three pterosaur eggs that held well-developed embryos had been unearthed separately in China and Argentina.
"The place's been found rich in fossilized pterosaur and pterosaur eggs since the first 3D preserved pterosaur egg was discovered," said Wang Xiaolin, a paleontologist at the Institute of Vertebrate Paleontology and Paleoanthropology affiliated with the Chinese Academy of Sciences in Beijing, who leads the team.
In 2014, Wang and his team had uncovered the fossil remains of male and female pterosaurs known as Hamipterus tianshanensis in Hami, which now is the world's largest pterosaur egg collection ever found. According to Wang, at least one fossilized pterosaur could be found per square meter in the region.
To look into the embryos, the scientists used a computed tomography (CT) scanner, a machine that takes hundreds of X-rays and then arranges them in a virtual 3D image.
It showed that none of the 16 embryos had a full set of pterosaur bones, likely because pieces were lost over the years due to storms and floods.
But it also revealed that the little pterosaurs had well-developed thigh bones, suggesting that the reptiles could walk shortly after hatching and probably needed their parents to take care of them.

Editor's picks