Push for excellence inspires innovative female welder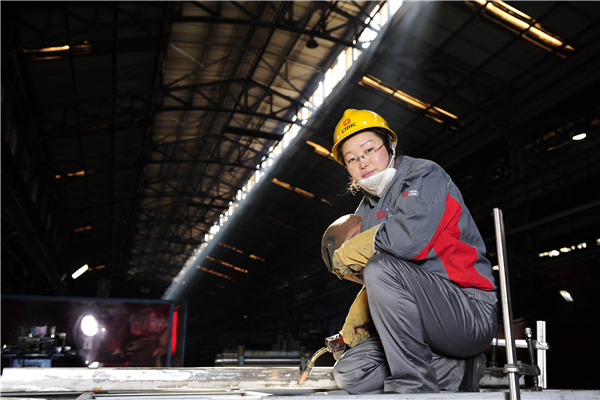 Yu Jing takes a break at CRRC Dalian Co's factory in Liaoning province. [Xing Yi/For China Daily]
This story is part of a series in which China Daily looks at how delegates to the 19th National Congress of the Communist Party of China are spreading the congress' message at work and in their daily lives.
Yu Jing is a welder, but she thinks of herself as a tailor making "new clothes" for locomotives.
"Welding iron sheets is like sewing cloth, and the welding torch is like the needle and thread. An excellent welder can make the seams neat and delicate," she said.
The 45-year-old welder for CRRC Dalian Co, a subsidiary of China Railway Rolling Stock Corp, was elected as a delegate to the 19th National Congress of the Communist Party of China this year - partly due to her workmanship.
Each year, she completes more than 1,000 weld seams with a 100 percent pass rate, and the locomotives she works on in Dalian, Liaoning province, are exported to more than 20 countries.
Welding is hard and dirty work, and it attracts few women. It requires physical and mental strength to squat for hours holding a torch steady, wearing thick protective overalls and a helmet with a face shield in summer or winter.
"The arc light can burn the skin and cause eyesight to deteriorate. My eyes often itch at night," Yu said.
Since she picked up her first welding torch in 1991, after graduating from a vocational technical school at age 19, she has continued to practice and improve her welding. "Women can do finicky jobs. It can be an advantage," she said.
With the rapid development of high-speed rail, CRRC Dalian has accelerated the upgrading of its locomotive products. The new ones always have different requirements. Yu has designed a number of operating methods, bringing a substantial increase in quality and work efficiency.
One year ago, Yu overcame the technical difficulty of welding the drawbars of locomotives with top speeds of 160 kilometers per hour.
Higher speeds require higher welding skills. A slight flaw in the welding can damage the drawbar, which cost more than 10,000 yuan ($1,510) each.
This year, she was assigned the task of welding the drawbars of locomotives with top speeds of 200 km/h.
As a delegate to the 19th CPC National Congress, Yu said she was glad to hear General Secretary Xi Jinping said "we will build an educated, skilled, and innovative workforce, foster respect for model workers, promote quality workmanship, and see that taking pride in labor becomes a social norm and seeking excellence is valued as a good work ethic".
"I was excited hearing this," she said. "It shows that the State fully recognizes our industrial workers."
Back at her post, Yu explained the spirit of the congress to her fellow workers.
"Promoting quality workmanship encourages us," said Chen Zhiyao, who has worked for CRRC Dalian for 40 years. "It will help to inspire the passion of young workers for innovation and to realize our dream of building China into a quality manufacturer."
Yu said that, as a grassroots representative, she must act as a role model and boost the morale of her colleagues to promote the spirit of craftsmanship.
"I hope my skills can be passed to more female workers," she added. "It would be great if more women were carrying forward quality workmanship. I'm really proud to be a female artisan."
zhangxiaomin@chinadaily.com.cn

Editor's picks