Henan farmers strike a prosperous note with pipa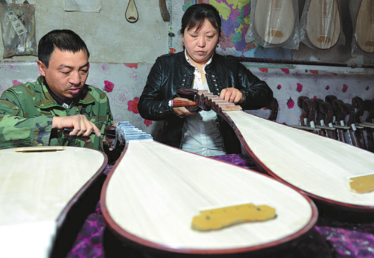 Xu Huiping and his wife make pipa at their workshop in Lankao, Henan province. [Miao Yucai/for China Daily]
Traditional musical instrument helps raise people out of poverty
For centuries, Chinese farmers have battled poverty with sickles and hoes. Now, they have a new tool: the pipa, or Chinese lute.
Xuchang village in Lankao county, Henan province, is known as Pipa Village. It has abundant paulownia trees, an ideal raw material for making the four-stringed instrument, and 54 workshops.
About 80 percent of the 628 residents are involved in the manufacture of traditional musical instruments, producing more than 50,000 pipa a year, with sales exceeding 60 million yuan ($9 million). Some large factories even export their instruments.
Frequent floods and sandstorms during the last century left the area with poor soil and crop failures, but in 1962, Jiao Yulu became the Party chief of Lankao and led the locals in planting trees to help soil and water conservation.
In the 1980s, when the trees were thriving, many villagers took up carpentry and sold furniture in the coastal cities.
When a professional instrument maker in Shanghai found that instruments made of paulownia sounded clear and melodious, villagers in Xuchang began opening workshops.
"We used to sell paulownia as a decorative material, but half a square meter of the wood was only worth 3 or 4 yuan. If we crafted a pipa, it would fetch at least 400 yuan," said Dai Shiyong, who opened Lankao's first instrument factory in 1988.
Dai was successful, and others followed, despite some early complaints that the instruments were poor quality.
Xu Huiping left home to become a city factory worker, but by the 1990s, he was earning just 40 yuan a month at a pipa factory in Kaifeng, about 60 kilometers from Lankao. He could barely support his two children and disabled wife, and the family was one of the most impoverished in the village.
But Xu worked hard and mastered the process of pipa making after a decade. In 2008, he returned home and opened a small workshop. Initially, he made fewer than 20 instruments a year. Most sold for more than 1,000 yuan, but some sold for up to tens of thousands of yuan.
Xu said he is happy in his work: "I work at home, so I have more time to take care of my family."
This year, Xu bought two machines with a loan supported by the local government. He has received more orders and produced more than 3,000 pipa. "I am speeding up, so I can complete all the orders," he said.
Instrument-making has lifted 102 people in Xuchang out of poverty, and three families have opened workshops like Xu. "The annual income of the poorest people has surged from 1,400 yuan in 2014 to 3,500 yuan," said Xu Shunhai, the village Party chief.
In 2014, President Xi Jinping, who is also general secretary of the Central Committee of the Communist Party of China, visited Lankao twice as part of a campaign to pair top Party officials with poor areas. At the time, about 11.8 percent of Lankao's population lived in poverty. County authorities made a commitment to improve livelihoods in three years and achieve moderate prosperity in seven.
Lankao withdrew from the national list of impoverished counties in March, and its poverty ratio is down to 1.27 percent. About 7,000 residents now run instrument workshops or factories, employing 65,000 people.
Xu Huiping's favorite pieces are two pipa that he gave to his daughter, Xu Siqian, on her seventh and 18th birthdays. He carved his name and poems on the soundboards, which were made of premium materials. Each could have been sold for 50,000 yuan, "but they are priceless to me", Xu Huiping said.
Xu Siqian, 20, started college last year and majors in music. She plays the pipa at home during breaks, drawing cheers and applause from neighbors, and making her father proud.
The industry has promoted the study of music. At weekends, parents send their children to music classes and almost every primary school now offers the national music curriculum.
Lankao is planning to create a music village where professionals from across the country can hold concerts.
Xu Siqian wants to teach children in her village how to play the pipa after she graduates. "I hope one day all the villagers know not only how to make a pipa, but can also play and enjoy its beautiful music," she said.
Xinhua

Editor's picks