China, Djibouti agree on cooperation
Among pacts, Beijing will provide loans beneficial to African nation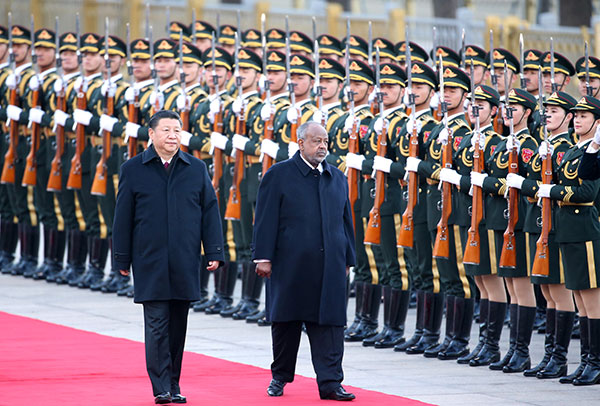 President Xi Jinping holds a ceremony to welcome President Ismail Omar Guelleh of Djibouti on Thursday at the Great Hall of the People in Beijing. FENG YONGBIN/CHINA DAILY
China and Djibouti signed three cooperation documents covering such areas as the economy and technology, finance and agriculture on Thursday during Djiboutian President Ismail Omar Guelleh's state visit.
According to one document, China will provide beneficial loans to Djibouti. The cooperation documents were signed at the Great Hall of the People in Beijing and witnessed by President Xi Jinping and Guelleh.
The two presidents agreed to establish a China-Djibouti strategic partnership and deepen cooperation in all areas.
Before their talks, Xi hosted a grand ceremony in the capital to welcome the African leader.
Since the establishment of diplomatic relations 38 years ago, China and Djibouti have boosted mutual understanding and respect, supported each other's core interests and major concerns and set an example for China-Africa friendship, Xi said.
China would push forward practical cooperation with Djibouti in such areas as railways, seaports, construction of a liquefied natural gas pipeline, free trade zone and agriculture, Xi said.
He said Beijing would continue to help Djibouti improve local medical facilities, broaden human resources cooperation and boost people-to-people exchanges.
Noting that China attaches great importance to deepening relations with Djibouti, Xi called on joint efforts to push forward collaborating on the Belt and Road Initiative, enhance cooperation in all areas and benefit the people of both sides.
Xi expressed gratitude for Guelleh's congratulatory message on the success of last month's 19th CPC National Congress and his re-election as general secretary of the CPC Central Committee.
The congress has made blueprints for China's long-term development, Xi said, adding that China will continue to be a sincere friend and reliable partner for developing countries.
Since Guelleh became Djibouti's president in 1999, he has led the people to explore a development path fitting for the country's situation, maintained a stable political situation and achieved sustainable economic and social development, Xi said.
Guelleh once again offered congratulations on the success of the congress and on Xi's re-election as general secretary.
Djibouti would like to proactively participate in the Belt and Road Initiative and enhance cooperation with China by constructing infrastructure and improving the people's livelihoods, Guelleh said.
Guelleh appreciated China's efforts in joining the United Nations peacekeeping operations and fighting pirates. He expressed gratitude for China's key role in safeguarding global peace and prosperity.
Chen Xiaodong, assistant foreign minister, told reporters that the two presidents exchanged viewpoints on the PLA's Djibouti Logistics Support Base, which was officially established in July.
Building the Djibouti base will not only help China better fulfill its international duties, including peacekeeping and rescue, but also bring security for the development of Djibouti, Chen said.
The Djibouti Logistic Support Base could benefit multiple parties, he said, adding that it will contribute to the security of the Horn of Africa.
The base is conducive to overseas tasks, including military cooperation, joint exercises, evacuating and protecting overseas Chinese and emergency rescue, as well as jointly maintaining security of international strategic seaways.
On Nov 3, while inspecting the Central Military Commission's joint battle command center as its commander in chief, Xi had video chats with troops at frontier posts and the support base in Djibouti.

Editor's picks