New book shows global audience China through Xi's eyes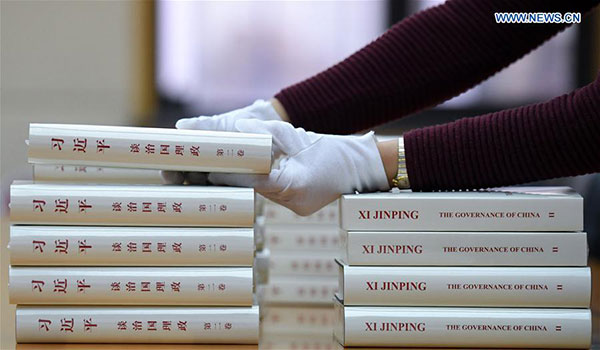 A worker from the Foreign Languages Press puts the second volume of President Xi Jinping's book Xi Jinping: The Governance of China in order, in Beijing, Nov 7, 2017. The second volume of Xi's book on governance has been published in both Chinese and English, the publisher said Tuesday. [Photo/Xinhua]
BEIJING - Inside a spacious factory building in the southern outskirts of Beijing, printing machines have been roaring and running around the clock for two weeks to publish a new book by President Xi Jinping.
"About 500 of us workers have been working extra hours since Nov 4," said Zhao Qing, an employee at Beijing Shengtong Printing.
The company was contracted to print 1 million copies of the second volume of Xi Jinping: The Governance of China, a collection of 99 of Xi's speeches, conversations, instructions and letters, as well as 29 photos of the Chinese leader from between Aug 18, 2014 and Sept 29, 2017.
Since the Chinese and English versions of the book hit the market on Nov 7, major bookstores in Beijing, including those in the city's busiest shopping areas of Wangfujing and Xidan, have displayed them prominently.
"The first print run is about 5.46 million copies," said Xu Bu, president and chief editor of Foreign Languages Press, the book's publisher. "In the past few days, orders have flooded in and we expect more to come."
Sales are likely to exceed those of the first book, which was published in September 2014 and has sold about 6.6 million copies worldwide in 24 languages.
In addition to Chinese, English, French, German, Japanese, Arabic, Spanish, Russian and Portuguese versions from the Chinese publisher, another 15 languages versions of the first book were translated and published by local publishing houses, with Chinese editors supervising the final draft.
Cooperation with local publishers helped make the book suitable for diverse cultures and traditions, Xu said.
"Such a global promotion plan is rare for books by Chinese leaders. The second volume will follow suit," he said.
According to Xu, Foreign Languages Press has worked with international publishing house Lagardere Services to distribute the book through bookshops at major international airports and will promote it through Chinese embassies and other Chinese organizations abroad.
"We would also like to attract foreign readers who live in China or travel here," he added.

Editor's picks