Students who sit for GRE exam on rise
The number of Chinese students taking the Graduate Record Examination is expected to keep growing, even though the number studying in the United States is increasing at a slower rate than before, according to the company that administers the test.
Given the need for students to have international experience and the high value that Chinese culture places on education, more Chinese students are getting graduate degrees abroad, where the GRE is often required, said David Payne, vice-president and chief operating officer of global education at Educational Testing Service.
ETS is a US-based nonprofit organization that administers many international tests, including the GRE, required by most graduate schools in the US for admissions.
The Open Doors Report released by the Institute for International Education recently showed 350,755 Chinese studied in the US in the 2016-17 academic year, an annual increase of 6.8 percent and the slowest growth rate since 2006.
Payne said the slowing growth rate might result from Chinese students' increasingly diverse options for overseas study destinations, and that the improving quality of Chinese universities has enabled more students to stay at home for their higher education.
"But the US will stay a preferred destination for overseas study," he said, adding that more programs, especially ones taught in English outside the US such as in Australia, Canada and Europe, are now requiring applicants to provide GRE scores. "So I think that will continue to drive the number of GRE test takers in China," Payne said.
The Chinese mainland had 58,679 GRE test takers in 2016-17, up 2 percent from 2015-16, the third-largest number of test takers after the US and India, Payne said.
Another factor is that more Chinese students are taking the GRE as undergraduates abroad. "We noticed several years ago that the number of test takers in China appeared to be dropping slightly, but when we looked at how many students by nationality were taking the test, the number (of Chinese test takers) was actually continuing to increase," he said.
"What we discovered was that more Chinese students were going to US institutions as undergraduates and were taking the GRE in the US."
He also said Chinese students are particularly strong in quantitative reasoning - a section of the GRE - compared with the average score globally.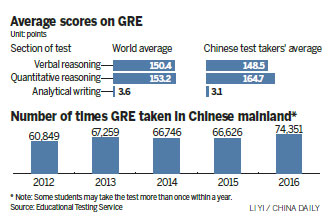 Editor's picks