HK-Zhuhai-Macao Bridge will be ready by year's end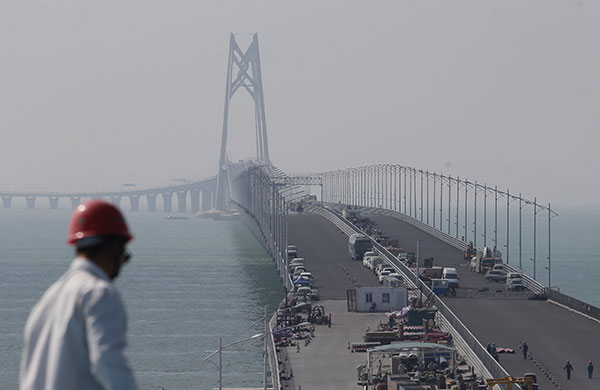 Workers are finishing up construction of the Hong Kong-Zhuhai-Macao Bridge, the world's longest bridge-tunnel complex. It stretches a total of 55 kilometers. [Roy Liu/China Daily]
The world's longest bridge-tunnel complex, the Hong Kong-Zhuhai-Macao Bridge, is "95 percent complete", according to the chief engineer for the bridge's island and tunnel project.
Lin Ming, also the project's general manager, discussed the bridge's status in an exclusive interview Thursday with China Daily at a bridge construction site in Zhuhai, Guangdong province.
Lin said the bridge will be finished by year's end. It is a key infrastructure project in the blueprint for the Guangdong-Hong Kong-Macao Greater Bay Area.
With the bridge project nearing completion, delegations from different countries have visited and expressed their interest in inviting Lin's team to build similar infrastructures.
A group from Spain, among the most recent visitors, approached Lin about the possibility of applying Chinese technology to a potential bridge-tunnel link across one of the world's most famous channels, the Strait of Gibraltar, Lin said.
He said that shows that after the construction of the HZMB, China is being recognized as one of the world's leading countries in offshore undersea tunnel technology.
The project stretches for 55 kilometers, 20 times the length of San Francisco's Golden Gate Bridge, and it will shorten the four-hour drive from Hong Kong to Zhuhai to half an hour. Construction started in 2009. It is designed to withstand a magnitude 8 earthquake, a super typhoon with wind speeds of 184 to 202 kilometers per hour.
The tunnel and artificial island project is seen as the most difficult task and an area using the latest technology and design. The 6.7-kilometer tunnel is the country's first offshore immersed tube tunnel and the world's longest, deepest embedded project of such kind. In an immersed tube tunnel, parts are sunk at the construction site and water is pumped out after they are joined.
The island-tunnel-island structure was designed to allow easy movement of shipping at one of the world's busiest deep-water passages, the Lingding West Channel, the middle channel of the Pearl River estuary, Lin said. As many as 4,000 ships a day navigate waters above the tunnel, serving ports around the estuary, officials said.

Editor's picks

Copyright 1995 - . All rights reserved. The content (including but not limited to text, photo, multimedia information, etc) published in this site belongs to China Daily Information Co (CDIC). Without written authorization from CDIC, such content shall not be republished or used in any form. Note: Browsers with 1024*768 or higher resolution are suggested for this site.
Registration Number: 130349