Xi honors ethical role models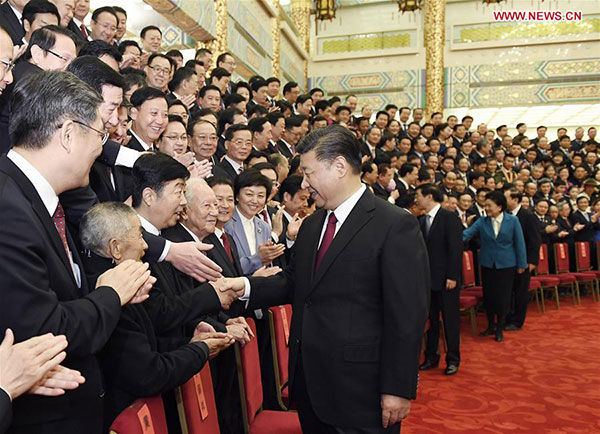 President Xi Jinping meets representatives attending the award ceremony on ethical role models and pioneers in Beijing, Nov 17, 2017. [Photo/Xinhua]
BEIJING - President Xi Jinping on Friday encouraged ethical role models and pioneers to make new contributions to raising socialist cultural-ethical standards.
Xi, also general secretary of the Communist Party of China (CPC) Central Committee and chairman of the Central Military Commission, made the remarks while meeting representatives attending the award ceremony on the initiative.
Fifty-eight people were honored as ethical role models, the sixth group to receive the honor since 2007.
They were recognized for their outstanding experiences in helping other people, acting bravely for a just cause, being honest, devotion to work or showing filial piety and love for their family.
The moral models included late geophysicist Huang Danian, who helped China advance in deep earth exploration.
Recognition was also given to another 265 nominees for the awards, which are given out on biennial basis, according to the Central Commission for Guiding Ethic and Cultural Progress.
At the ceremony, the commission also revealed the results of other awards on cultural-ethical advancement.
A number of cities, counties, villages, organizations and schools were given credit for their contributions.
On the cause of raising cultural-ethical standards for minors, 32 cities and districts, 200 organizations and 100 individuals were rewarded.
Wang Huning, member of the Standing Committee of the Political Bureau of the CPC Central Committee, addressed the ceremony.
He attributed the historic achievements in the initiative during the past five years to the leadership of the CPC Central Committee with Xi at the core and the scientific guidance of Xi Jinping Thought on Socialism with Chinese Characteristics for a New Era.
To promote socialist cultural-ethical development in the new era, studying and implementing the essence of the 19th CPC National Congress is a primary political task, and the most important task is to study and publicize Xi's thought, said Wang, who is also head of the Central Commission for Guiding Ethic and Cultural Progress.