Melania Trump tweets her gratitude for visit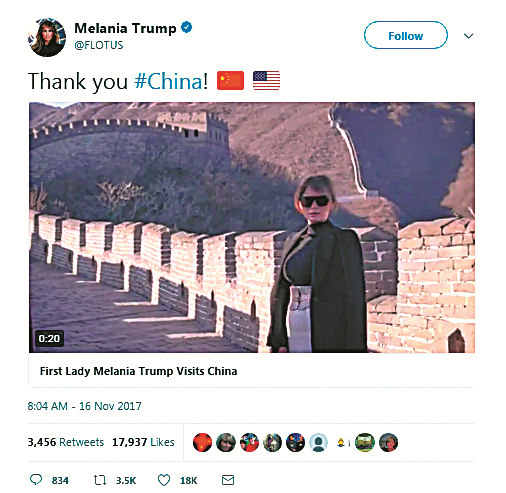 A screenshot of Melania Trump's video clip on her Twitter account. PROVIDED TO CHINA DAILY
US first lady Melania Trump posted a video clip on her Twitter account on Thursday afternoon titled "Thank you #China", followed by the flags of China and the United States.
The one-minute video shows many memorable moments that she and her husband, President Donald Trump, had during their state visit to China from Nov 8 to 10, such as the warm reception they received; attending cultural performances; her interaction with Chinese students; and visiting the Great Wall as well as Beijing Zoo to meet a giant panda.
The posting generated tens of thousands of likes, including from President Trump. It quickly drew many comments by the US first lady's followers, with words such as "Thank you, China, for your graciousness to our lovely First Lady," by someone with the username Julie Jam;
"Beautiful country with beautiful people. Thank you for sharing," by Randi;
"1st Lady, I am happy you had a nice time in China," by Greco Babeo;
"China was very welcoming, for our FLOTUS!" by Dee KC;
and "Thank God. Thank President Xi, Thank China," by Phyllis Bennett.
The Twitter account, Melania Trump@FLOTUS, is run by the Office of the First Lady and has more than 9 million followers.
During the state visit to China, Melania Trump also sent multiple tweets about the China trip, including thanking President Xi Jinping and his wife, Peng Liyuan, for their warm hospitality, her "wonderful" meeting with giant panda Gu Gu and her "unforgettable memories" at the Great Wall.
President Trump, whose Twitter account has 42.8 million followers, also has sent numerous tweets in the past week praising the successful and fruitful state visit to China and thanking China's leaders and people for their hospitality.
After the US president wrapped up his state visit to China on the morning of Nov 10 and headed to Vietnam to continue his 12-day Asia tour, his wife stayed behind to visit Beijing Zoo. She met and fed giant panda Gu Gu and learned about his nutrition and training.
She also sent toy eagles to a group of schoolchildren waving miniature Chinese and US flags in front of a panda enclosure. They also posed for photographs.
Later that day, she toured the Mutianyu section of the Great Wall in Huairou in northern Beijing.
Zhang Yunbi contributed to this story.