Taiwan delegate to national congress: 'I just told the truth'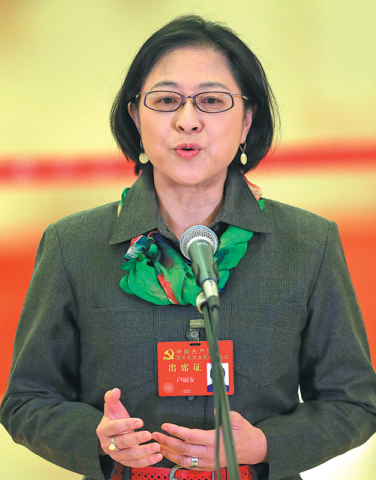 Lu Li-an answers media questions during last month's 19th National Congress of the Communist Party of China. YIN GANG/XINHUA 
Lu Li-an was confronted with a pointed question during last month's 19th National Congress of the Communist Party of China: "Now you have become a Party delegate, you won't love Taiwan anymore, will you?"
Among the 10 members representing Taiwan, Lu was the only one born and raised on the island.
"I found the logic of this question laughable. I'm also a delegate for women. Does it mean I won't love my husband?" she retorted.
"We are not living in 1927, or 1937, or 1947. It's 2017, and we should have the courage to abandon the outdated mentality of confrontation. We can love Taiwan and the Chinese mainland at the same time, as we love our parents," she proudly declared in media interviews during the congress.
Lu's appearance as a Party delegate drew controversy in Taiwan. While many applauded her courage and foresight, some accused her of betrayal. In a highly public manner, her household registration in Taichung was revoked by the Taiwan government.
In response, Lu, who is vice-dean of Fudan University's School of Foreign Languages and Literature in Shanghai, compared herself with the child in Hans Christian Andersen's tale, The Emperor's New Clothes.
"I just told the truth. There are some people who agree with me, and some who scold me," she said. "I received a lot of support from friends and media. In fact, I was prepared for all of this long ago when I decided to come to teach in Shanghai."
Ma Xiaoguang, the spokesperson for the State Council's Taiwan Affairs Office, made a remark on Wednesday in regard to the revocation of Lu's household: "Whatever actions the Taiwan authorities take against her, it won't lessen Lu's love for her hometown and her motherland. Both the Chinese mainland and Taiwan are her home, whether Lu has a household in Taiwan or not."
Born in Kaohsiung in 1968, Lu spent 22 years in Taiwan before going to the United Kingdom to study English literature in 1991. She met her husband-to-be Shen Yifan while pursuing a master's degree at the University of Edinburgh.
Shen was born to a family that moved from the Chinese mainland to Taiwan in the 1940s. As China's reform and opening-up policies gathered pace, Lu said she and her husband began to feel frustrated by Taiwan's political environment.
They moved to Shanghai in 1997 to take up teaching jobs at Fudan, becoming the university's first faculty couple from Taiwan.
Many relatives expressed concern, but Lu's parents were supportive of her choice. "They said, 'It's our motherland, so don't be afraid'. For us, it was a homecoming," she said.
It was a long and complicated process, though. Lu first expressed her wish to work on the mainland to the Chinese embassy in London in 1995. It took two years of paperwork and coordination between the university and the government before Lu and her husband could finally cross the water.
In addition to her university work, Lu has been an active member of the Shanghai Taiwan Compatriots Friendship Association, becoming its chair in 2013.
Opportunities for Taiwan residents to study, work and live in the mainland have taken great strides since the new millennium, but Lu said she believes there is still much to be done.
Through her role in the association, she forwarded suggestions and advice to many government sectors, including the Shanghai People's Congress and the Shanghai committee of the Chinese People's Political Consultative Conference.
She said years of participating in public affairs increased her sense of responsibility, and she applied to join the CPC in 2014. "I thought I could contribute more to society if I become a member," she said.
During the Party congress last month, Lu brought suggestions to group discussions, such as creating platforms to facilitate more cross-Straits educational exchanges and providing equal scholarship opportunities for students from Taiwan studying at mainland universities.
Of course, she has not forgotten her home island. Lu returns every year to Taiwan to visit her parents. When asked what she misses most about the island, she smiled and pondered briefly, before giving a long and poetic description of its landscape, its warmhearted and friendly people, and the way of life in its south.
"When I return, my hometown appears to me like a sleeping beauty," Lu said. "A spell has been cast on her, making her oblivious to changes happening in the world. "I am worried she might miss her chance. When she wakes up, her prince may no longer be there."

Editor's picks