New measures introduced to attract Taiwan students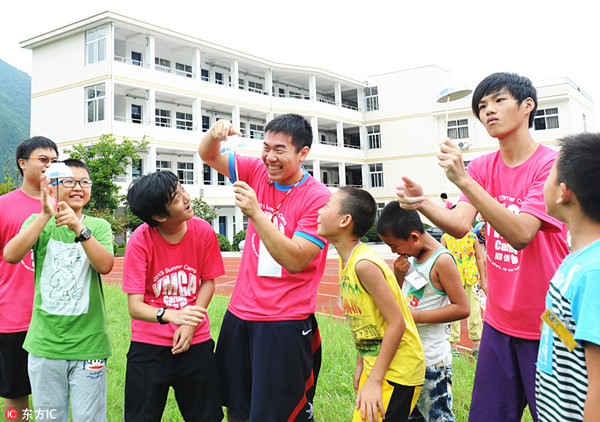 Students from Taiwan learn local folk activities from Chinese mainland students in Lin'an, Zhejiang province on Aug 26, 2013. [Photo/IC]
Mainland increases scholarships, lowers entrance requirements for universities
The Chinese mainland is continuing to introduce beneficial policies to attract students from Taiwan to study and work on the mainland, a spokesman for the State Council's Taiwan Affairs Office said on Wednesday.
Three measures were issued recently to encourage more students from Taiwan to study and work on the mainland, said Ma Xiaoguang, spokesman for the office, at a news conference.
Since Oct 1, Chinese universities have lowered the entrance requirements for students from Taiwan. More than 200 universities approved students with lower scores than in previous years in the General Scholastic Ability Test, Taiwan's college entrance exam.
The Ministry of Education approved the use of Taiwan test scores for applications to universities on the mainland in 2010. It is also asking universities to provide targeted job guidance for Taiwan students and help with documentation required for those who want to work on the mainland.
The Ministry of Finance and the education ministry have also increased the number of scholarships offered to Taiwan students, increasing both the amount of money students receive and the number of recipients.
"The next move is to carry out the spirit of the 19th National Congress of the Communist Party of China and continue to research and release policies, gradually treating Taiwan compatriots and mainland residents equally in terms of studying, starting up businesses, seeking employment and living on the mainland to promote economic and social development between both sides and to enhance the happiness of people from Taiwan," Ma said.
General Secretary Xi Jinping said at the opening of the congress in October that people from Taiwan will be treated the same as those from the mainland when they pursue studies, start businesses, seek jobs or live on the mainland.
In 2013, students from Taiwan were included in the basic medical insurance system for mainland urban residents. In 2015, 10,870 students from Taiwan studied at mainland universities, according to figures from the education ministry.
At Wednesday's news conference, Ma also called for authorities in Taiwan to abandon their hostile mentality and respect the choices of residents. He was referring to Lu Li-an, an English literature professor at Fudan University who was born and raised in Taiwan but whose household status was revoked by Taiwan authorities after she attended the national congress as a CPC member in October.
"No matter what measures the Taiwan authorities take, Lu's love for her hometown and the Chinese mainland will not be diminished," Ma said. "Whether she has household status in Taiwan or not, the mainland and Taiwan are both her home."

Editor's picks