Courts embrace AI to improve efficiency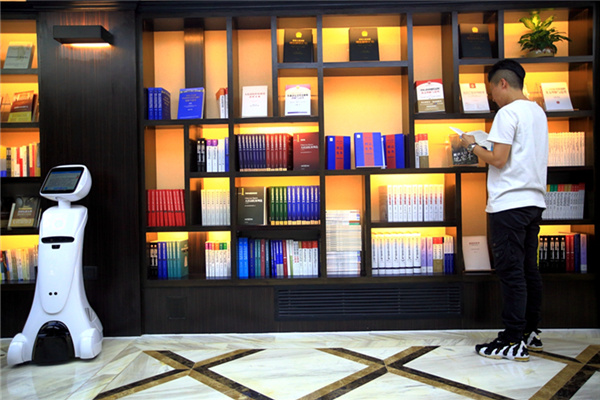 A robot is available to help customers at a store that sells legal books in Beijing owned by the Supreme People's Court, China's highest legal chamber. [Zhao Chengshun/China Daily]
A 'smart' friend
Jiang Youyi, CEO of Wu Song, said Fa Xiaotao is programmed to select attorneys from a database of more than 60,000 lawyers who have experience in various fields. So, if a company has a problem related to contract law, the robot can provide details of lawyers for hire who have acted in similar cases.
Wu Song plans to focus the robot on providing companies with advice in a range of legal fields.
So far, it has provided services for about 10,000 companies, and its database contains details of more than 43 million verdicts, he said.
Relevant information
By contrast, Xiao Fa is designed to provide advice to individuals, according to Du: "Its algorithm is designed to reflect the most-frequently-asked questions in specific regions to ensure the answers it provides are relevant and accurate."
For example, the Xiao Fa robot in Shenzhen, Guangdong province, which is home to a large number of migrant workers, is programmed to provide employees with information about labor-related disputes, while the robots used in Beijing's courts focus mainly on civil and commercial law, he said.
"As a friend of the public, the robot must understand their problems and suit its searches to their cases," he said. "We're also studying how laws can be explained more easily, because regular people rarely understand concepts when the language is too complex or legalistic."
Du, a native of Jinhua, Zhejiang province, started Aegis shortly after graduating from Nanjing University in 2006, despite having no experience of either computing or the law.
First, he used big data to analyze public responses to judgments made by a court in Nanjing. "At the time, I was interested in the combination of the internet and laws, realizing it would be significant in both fields," he said.
In the past decade, he has witnessed the growing influence of technology in the legal sector, and his original team of three has grown into a company with more than 120 employees.
Although he believes that AI's time in the legal spotlight has definitely arrived, he dismissed the notion that robots will eventually replace lawyers.
"The goal of providing justice by upgrading technologies does not mean lawyers will disappear. However, attorney's assistants may be replaced because robots can easily search for case materials and locate specific laws. I believe AI will bring many more changes," he said.
"I suggest that people consult a lawyer for all complicated disputes, such as criminal cases, because they are affected by many things, such as emotions, which robots cannot understand."
Future challenges
Most people engaged in the AI sector are age 30 or younger. "Their innovative attitude and passion push forward technological change in the sector," Du said.
He noted that the average age of his employees is 28, and he employs twice as many technicians than people who to collate lists of laws and legal definitions.
He Weican, 22, a law graduate from Guangdong University of Finance, said his job is a little like "fighting monsters. New problems are always emerging in the AI industry. What we do is figure them out and combat them by updating the technology. It's fascinating."
For Wang Yizhen, a technician with Aegis, the challenge is the most rewarding aspect of his job.
"Explaining difficult laws through specific computer algorithms is a real challenge for me, but if I can solve the problems more people will benefit," the 25-year-old said.
He added that no one can predict how the growth of AI will change the world, but he and his colleagues are determined to play their part.
"Using technology and the law to help others will remain our long-term goal," he said.
Contact the writer at caoyin@chinadaily.com.cn