Courts embrace AI to improve efficiency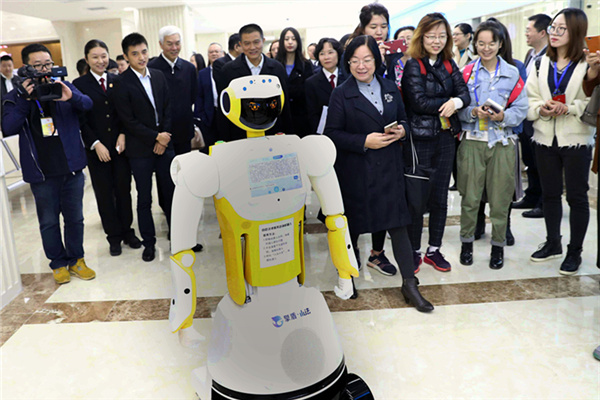 Xiao Fa, a robot assistant, is surrounded by officials during its first day at Beijing No 1 Intermediate People's Court last month. [Zou Hong/China Daily]
Robots and online databases are increasingly being used to bolster the judicial system, as Cao Yin reports.
China's courts are embracing new technology and artificial intelligence in a bid to speed up judicial procedures and ensure that verdicts are more accurate and equitable.
Last month, the lawsuit center at Beijing No 1 Intermediate People's Court attracted widespread attention when a robot called Xiao Fa was put into operation.
Members of the public and court officials can ask the robot questions verbally and obtain a spoken reply, and also make queries via a regular computer keyboard or by writing Chinese characters on its screen on it's front, and receive a printout.
"Xiao Fa attracts a lot of attention, partly as a result of its appearance, but mainly because it can provide essential details, such as how to bring a lawsuit, and also retrieve case histories, verdicts and laws. It reduces our workload and improves the efficiency of our services," said Zhao Lan, head of the lawsuit center.
The robot, which has a vaguely humanoid appearance and boasts speech circuits, was designed by Aegis, a technology company in Nanjing, Jiangsu province. It first came to public attention in July, after undergoing six months of tests.
It is being used at more than 100 courts nationwide, but its use is expected to become more widespread rapidly. However, at a cost of 50,000 yuan to 150,000 yuan ($7,528 to $22,585), depending on size, Xiao Fa isn't cheap.
Aegis just one of a number of businesses in the internet and technology sectors applying AI to the legal sector. For example, Wu Song Network Technology Co unveiled Fa Xiaotao, a robotic research assistant, in October last year. Unlike Xiao Fa, it is rarely used in courts.
Du Xiangyang, CEO and founder of Aegis, stressed the differences between the robot assistants.
"Fa Xiaotao mainly serves law firms and company lawyers, while Xiao Fa is used by litigants, judges and court officials. We want our robot to help solve disputes in a way that people find easy to understand," he said.
Legal assistance
When people are investigating their legal rights or considering bringing a lawsuit, some consult lawyers, while others look for answers on the internet, but neither method is perfect, according to Du.
"Most answers provided by search engines are based on other people's experiences, and are not professional opinions, while consulting a lawyer costs a lot of money," said the 37-year-old, who majored in business management.
Xiao Fa is designed to solve both problems because its database contains authorized judgments and its services are free.
In addition to using Aegis' robots in court centers, the public can also search for information via the company's WeChat account, which was established in July.
"It's a cloud computing platform which is aimed at providing more convenient legal services for users," Du said.
For example, if someone sustains injuries in a traffic accident, the platform can provide information about procedures, such as how to contact the police and request to see relevant footage captured by surveillance cameras.
"The public has given a warmer welcome to our WeChat platform than to our robots because the online platform can provide information at any time," Du said, adding that the system is linked to more than 350 judicial authorities, including courts and justice bureaus.
Company statistics show that the platform receives more than 30,000 requests every day, and can provide immediate answers for 85 percent of the questions.
Both Xiao Fa and the WeChat platform have access to a database that is constantly updated and contains details of more than 40,000 legal procedures, and answers to about 30,000 frequently asked legal questions. It also holds information about more than 7,000 laws and 5 million cases.
"We build a computer algorithm to seek answers in the database in line with the questions, but we only provide possible solutions, not model answers," Du said.
He compared Xiao Fa with court officials who assist both judges and litigants.
"It helps litigants to understand their disputes, while its responses to legal queries can provide judges with more time to work on complicated cases," he said.