China develops a catapult for planes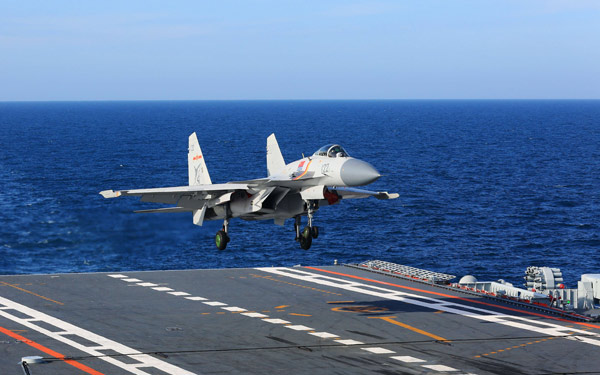 A J-15 fighter jet lands on CNS Liaoning in July.[Photo/Xinhua]
Electromagnetic system to boost carrier fleet's combat capability
China has developed its own version of a cutting-edge device previously possessed only by the United States and is poised to use it to boost its aircraft carrier fleet's combat capability.
The device, known as an electromagnetic launch system, or electromagnetic catapult, was designed by Chinese engineers to assist planes taking off from aircraft carriers. The system has been tested with J-15 carrier-borne fighter jets, according to Rear Admiral Yin Zhuo, director of the People's Liberation Army Navy's expert consultation committee.
He said on China Central Television recently that J-15s have made "thousands of takeoffs" using the electromagnetic launch system.
Before China developed its catapult, expertise in the technology had long been the domain of the United States, because of the system's complexity and sophistication.
Unlike taking off from a runway on the ground, fixed-wing aircraft on carriers need assistance from a special apparatus to take off because a flight deck is not long enough for a plane to gain sufficient speed to fly. Catapults give them an extra shove.
A steel cable attaches the plane to the catapult and drags it rapidly forward for takeoff. With older technology, the pulling force of the cable was powered by steam. Electromagnetic force provides an alternative solution that brings certain advantages.
China's midsize carrier, the CNS Liaoning, uses a ski-jump design for its takeoff ramp - with an upward slope at one end to increase the angle of a plane's wings, thereby generating lift. Large carriers, however, such as those deployed by the US Navy, use catapults.