Outstanding people engage more fully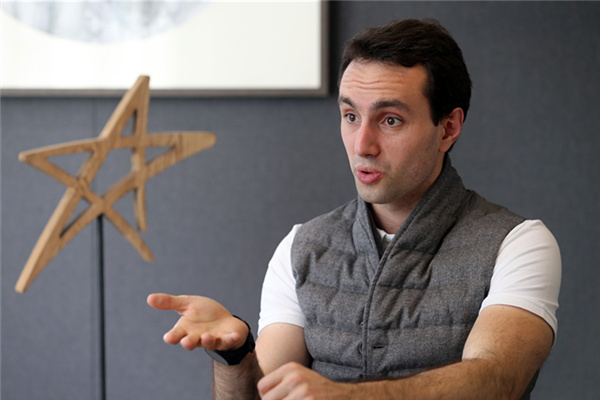 Andrea Pasinetti, 31, founder and CEO of Teach for China. [Wang Zhuangfei/China Daily]
Andrea Pasinetti spoke with Li Lei.
I came to China in 2007 to learn Chinese at Tsinghua University (after studying at Princeton University). A year later, a Princetion a alumni who is Chinese invited me to visit Shuangjiang, a beautiful but poverty-stricken county in Yunnan province, where he had funded a primary school. He told me that it was the best way to get a comprehensive image of China.
When I arrived at the school, or rather a "teaching site" at the top of a mountain, the headmaster told me that very few of his students made it to senior high school, but not because they didn't want to or were not capable.
They had very good facilities, but there was a severe shortage of good teachers.
When I was about to leave, the headmaster asked if I could persuade some of my classmates at Tsinghua to teach there during vacations. In some way, I could feel that the headmaster believed top university students could instill passion into the children there.
And that's what I did, though without much hope because I know it's not easy to gain a place at Tsinghua, so I thought people would want to find well-paid jobs after graduation.
I asked some friends, and was surprised that quite a few of them shared the same passion. And the more outstanding they were, the more willing they were to engage with the initiative.
In addition to Tsinghua, I tried my luck in other prestigious schools, such as Fudan University in Shanghai and Sun Yat-sen University in Guangdong province.
They also expressed an interest, and in just six months I got 20 excellent college students who were willing to contribute their knowledge and energy. In 2008, I founded Teach for China.
The Chinese government has been promoting equality of education. In the past nine years, the infrastructure in rural China has improved significantly and teachers' salaries have also risen.
However, compared with the previous lack of teaching facilities, the shortage of capable teachers will take longer to solve. Teach for China is now exploring new ways of solving this problem.

Editor's picks