Shanghai police repatriate US fugitive suspected of theft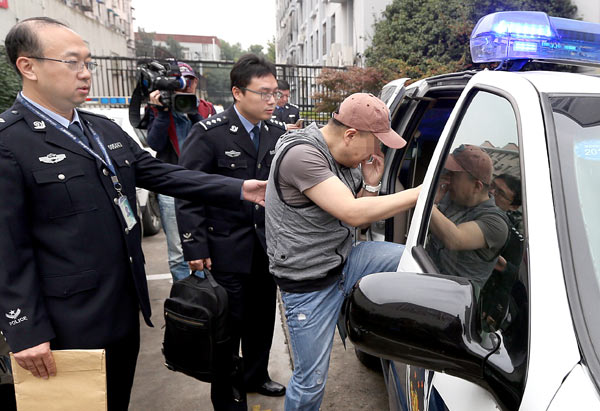 A fugitive suspected of theft from the United States is escorted to a police vehicle from a detention facility in Shanghai on Tuesday. He was later handed over to US law enforcement officials.[Photo/Xinhua]
A US citizen suspected of theft in the United States who fled to China was repatriated on Tuesday, according to the Ministry of Public Security.
Chinese police handed the suspect over to US law enforcement officers on Tuesday at Shanghai Pudong International Airport. They will escort the man back to the US to face justice.
The suspect, who was not named, is male. He came to China on a travel visa, the ministry said.
"It's an example of judicial cooperation between China and the US to repatriate fugitives, after President Xi Jinping and US President Donald Trump met in Beijing earlier this month to decide on deepening judicial cooperation targeting transnational crimes," a ministry statement said on its website on Tuesday.
The ministry said the suspect is accused of stealing vehicles in the US and was wanted by the FBI. He fled to Shanghai in 2009 on a tourist visa and made a living by working as an English teacher.
In August, the US asked China to provide judicial assistance to capture and repatriate the man. After an investigation, Chinese police apprehended the suspect in September. He was not found to have been involved in any crimes in China.
According to the ministry, China has implemented agreements reached by the two presidents earlier this month, and "quickly completed the legal documents to send the suspect to the US to face trial". This reflects China's resolve to refuse safe haven to foreign fugitives, it said.
It was the fourth time this year that China has sent a fugitive back to the US to face justice.
In October, a fugitive suspected of sexually abusing minors in the US was sent back.
"We will beef up law enforcement cooperation with our US counterparts to hunt down corrupt fugitives and recover their ill-gotten assets," the ministry's statement said.

Editor's picks