Handsome Future For Beauty Sector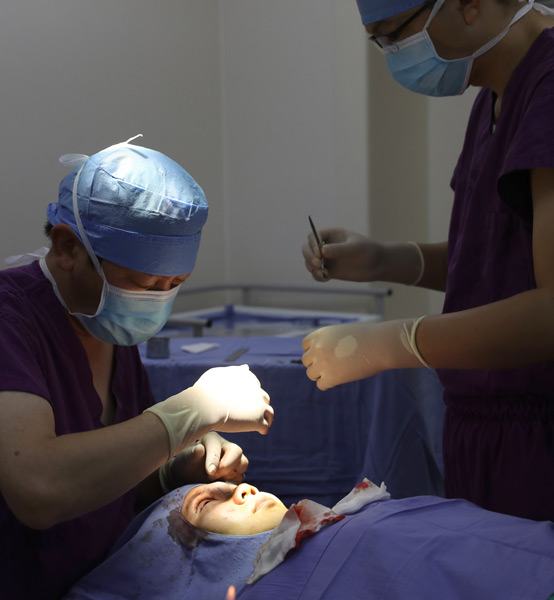 A woman undergoes plastic surgery to produce double eyelids at a hospital in Beijing.[Photo by Zou Hong/China Daily]
The number of plastic surgeries is rising as more young people look to change their appearance and prospects.
In the West, plastic surgery is usually the preserve of older people hoping to retain or regain a youthful appearance. In China, the reverse is true, with young women the most likely to go under the cosmetic surgeon's scalpel.
At age 29, Gan Yuqian (not her real name) has already had four operations to give her double eyelids. Her fourth surgery came after she visited a cosmetic clinic at the Beijing Hospital to consult a surgeon about changing the shape of her eyes, and spoke honestly about her three previous procedures.
In the past 10 years, the Beijing native had attended several private clinics to "improve" her features. Despite undergoing numerous procedures, she still felt her eye shape wasn't a good fit for her face so she recently paid her first visit to a public hospital in search of a solution.
Gan was one of 9 million Chinese women to change their appearance in 2015, according to a report by Zero2ipo Research, which showed that people in their 20s and early 30s are the biggest spenders on physical makeovers.
She has already spent 100,000 yuan ($15,000) on cosmetics operations. "Plastic surgery can help people, but it can also harm them," she said. "And it hurt me."
Gan first had surgery to produce double eyelids when she was age 19. "It looked pretty good at the time," she said. "I was always naturally beautiful, and boys thought I was pretty and wanted to marry me. But I was kind of lost and thought a better man was waiting for me in the future."
In 2009, having turned down a marriage proposal, she underwent further procedures to alter her appearance. After several shots of hyaluronic acid in her nose and jaw to make her features more aquiline, she looked like a Barbie doll and could barely display emotions.
"It actually ached a lot," she said.
Young beauty miracle
Many young Chinese have had multiple cosmetic surgeries and the number continues to grow, according to a report published in August by Soyoung, a cosmetic surgery social networking app with 20 million users, 92 percent of whom buy beauty products from it every three to six months.
"The industry in China is currently in its first peak development period," said Jin Xing, Soyoung's CEO. "So it's no surprise that a growing number of consumers regularly buy aesthetic medicine products."
The plastic surgery trend first appeared in the United States about 30 years ago. The phenomenon was chronicled by Naomi Wolf in The Beauty Myth which showed the influence of advertising and magazine photo shoots in the growing pressure on women to attempt to conform to unrealistic ideas of beauty. The rising financial and social status of women in the West also helped to accelerate the growth of the industry.
In China, the awakening of self-awareness has accelerated the consumption of aesthetic medicines, while the demands of work and the desire to attract a partner is playing an increasingly important role in prompting younger people to opt for cosmetic surgery.
Ma Zhiguo, a senior psychologist in Tianjin, recalled how surprised he was the first time a man who was not satisfied with his appearance, despite having several operations on his face, asked him for help. That was about 10 years ago.
According to Soyoung's estimates, the market for aesthetic medicine and surgery has risen by 42 percent so far this year, and its growth has provided consumers with greater choice and prompted them to undergo multiple procedures.
Jin, the CEO, is convinced that the value of China's cosmetic medicine market will rise to 2 to 3 trillion yuan within the next 10 years.
Three years ago, Xue Li (not her real name) visited a private clinic in Beijing to undergo a procedure to produce embedded double eyelids. While she was on the operating table, the doctor suggested that she should have the fat in her lower eyelids removed by filling in the lacrimal groove.
Although she felt pressurized, Xue agreed to the procedure. "I felt as though they were advertising while I was undergoing surgery," the 28-year-old said, adding that the original fee of 5,000 yuan eventually rose to 10,000 yuan.