Expert: China, US now equals in pollution fight
NGO's China chief celebrates four decades of cooperation
The head of the China branch of an influential environmental advocacy group has hailed 37 years of cooperation between the United States and China. From the early days in which it followed the US' example, China has grown into an equal partner, according to Zhang Jianyu, chief representative of the China office of the Environmental Defense Fund.
"The two countries, both with large populations and territories, have shared experiences in economic growth and pollution issues, making exchanges necessary," he said, adding that he expects these mutually beneficial exchanges to deepen.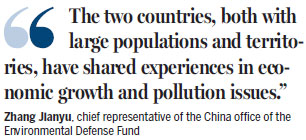 In 1980, the top environmental agencies in Beijing and Washington signed an agreement on scientific and technical cooperation. It was China's first international agreement on environmental protection. Just over a decade later, the US invited the New York-based Environmental Defense Fund to participate in China's first experiment with economic incentives for pollution control, one of the China-US cooperative projects
The organization, which is known for its market-based approach, opened its Beijing office in 1998. Zhang said it has since helped the country adopt a variety of incentives developed and implemented in the US.
One such measure has been to follow the US example of daily fines with no upper limit, which was incorporated into China's Environmental Protection Law in 2015. Wang Canfa, a professor at the China University of Political Science and Law, said making businesses pay a heavy price for harming the environment has become a major tool to deter polluters.
During the administration of Barack Obama, the US and China became the leading negotiators in global efforts to tackle climate change. Zhang said it is clear the two countries now share equal footing on environmental protection.
"China has taken more positive measures in addressing climate change," Zhang said. He pointed out that during the second China-US Climate-Smart Low-Carbon Cities Summit in June last year, 12 Chinese cities pledged to cap their carbon emissions earlier than the national deadline of 2030.
In the future, Zhang said the US might even learn from China, such as the wide use of smartphones for information release and collection, which has made air quality data freely available.

Editor's picks