Xi'an sees future as innovation hub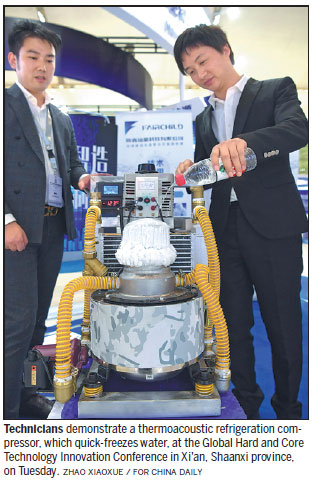 Xi'an, Shaanxi province, aims to become a global center for cutting-edge technology by 2025, officials said on Tuesday.
"Xi'an will become the world's capital in the hard sciences and core scientific fields, and become a model city for cutting-edge innovation, applications and trade by 2025," Wang Yongkang, the Party chief of Xi'an, said at the opening of the Global Hard and Core Technology Innovation Conference in the city.
Hard and core sciences are "fields that are more advanced and influential than high-tech", Wang said. These areas of the natural sciences "have extremely high threshold of entry, are nearly impossible to duplicate and require decades of rigorous research and huge investments from the nation".
Such fields include smart manufacturing, new energy, new materials, photonic and computer science, space technology, biotechnology and artificial intelligence.
"These hard and core science fields reflect the true technological prowess of a country," he said.
Xi'an is fully capable of becoming a global model city in innovation and manufacturing, said Zhang Daohong, vice-governor of Shaanxi. The province already excels in space technology, advanced electronics manufacturing, clean energy and new materials, he said.
In 2016, Xi'an's industrial output reached 118 billion yuan ($17.8 billion), a 10 percent year-on-year increase. Xi'an also invested more than 30 billion yuan in research and development in 2015, he said.
"We are confident that hard and core technologies will become the new calling card for Xi'an," Zhang said.
Meanwhile, Xi'an, which is the starting point of the land route of the Belt and Road Initiative, "will be a crucial science and innovation hub to serve the initiative", he said.

Editor's picks