Leaders discuss future of higher engineering education in China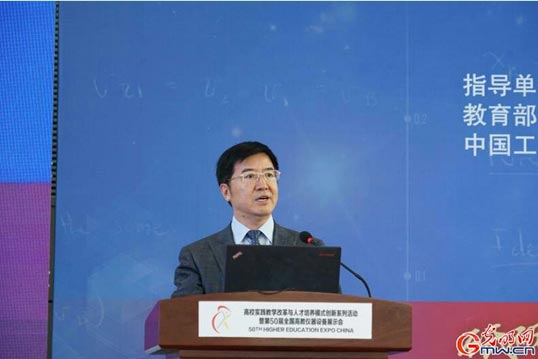 Du Yubo, president of the China Association of Higher Education, addresses the opening ceremony of the Second National Summit for Higher Engineering Education in Nanjing, Jiangsu province, Nov 2. [Photo/gmw.cn]
The second National Summit for Higher Engineering Education opened in Nanjing, Jiangsu province, on Nov 2.
The meeting built on a consensus reached by China's top colleges at Fudan University in Shanghai this February to make concerted efforts to create new engineering concepts, promote new specialty mechanisms, implement new training methods, and take engineering education to a new level.
Themed on the opportunities and challenges facing China's higher engineering education, the summit was also organized in response to calls from the government to shift the priority in engineering education from quantity to quality, providing the learning required by students – technical expertise, social awareness, and a focus on innovation – to become successful engineers.
Du Yubo, president of the China Association of Higher Education, who has been working in the education sector for decades, said the reform and development of engineering education was bright and vigorous.
"The ever-increasing influence and rapid advance of technology demands a skilled, highly educated technical workforce. The professionals' growing contribution to China's modernization construction also drives us to put great emphasis on talent cultivation," Du said.
"In the pursuit of a 'talent blowout', we should promote activities that support increased student enrollment in engineering schools, provide valuable communication links among enterprises, government agencies and educational institutions, and set up courses focusing on emerging areas such as big data, artificial intelligence, and internet security," Du said.
"Related policies and programs that enhance professional opportunities for engineering faculty members are also a necessity, as they will contribute to academic excellence in various aspects," Du added.

Editor's picks