Nation's top military body appoints new general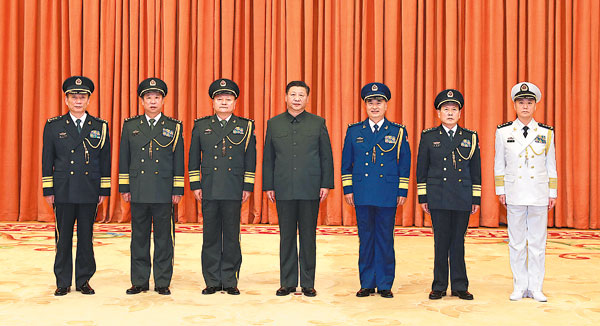 Xi Jinping (center), chairman of the Central Military Commission, poses for a group photo with Zhang Shengmin (first left), chief of the CMC Discipline Inspection Commission, after a promotion ceremony in Beijing on Thursday. The CMC promoted Zhang to the rank of general on Thursday.LI GANG / XINHUA
Zhang Shengmin, the top anti-corruption official in China's armed forces, was promoted to the rank of general on Thursday.
Xi Jinping, chairman of the Central Military Commission, presented a promotion certificate to Zhang, 59, at the CMC headquarters in Beijing. 
This made Zhang the last uniformed member in the CMC, China's highest military authority, to become a general, which together with admiral is the most senior rank for an officer.
He was recently named chief of the CMC Discipline Inspection Commission and deputy chief of the Central Commission for Discipline Inspection of the Communist Party of China at the First Plenary Session of the 19th CPC Central Committee in late October. 
Along with Zhang, the commission has five uniformed members — Xu Qi­liang, Zhang Youxia, Wei Fenghe, Li Zuocheng and Miao Hua.
Zhang Shengmin's early career in the People's Liberation Army remains undisclosed. Chinese media reports say that he spent more than 10 years in the PLA Rocket Force, formerly called the PLA Second Artillery Corps, in posts ranging from political commissar of a missile base and a command college to head of the political wing at the force's headquarters in Beijing. 
Around the end of last year, Zhang was named political commissar of the CMC Logistic Support Department, he was then named head of the CMC Discipline Inspection Commission around this February. 
After Xi become General Secretary of the CPC Central Committee and chairman of the CMC in late 2012, he launched a sweeping anti-corruption campaign within the armed forces. So far, at least 100 senior officers at the rank of major general or higher — including Xu Caihou and Guo Boxiong, former vice-chairmen of the CMC — have been convicted or punished for corruption or other misconduct, according to PLA Daily. 
At a top-level military meeting on Oct 26, one day after Xi was re-elected Party general secretary and CMC chairman, he told officers that they must work hard to enforce discipline in the armed forces.

Editor's picks