In Dalian, all eyes are on the sky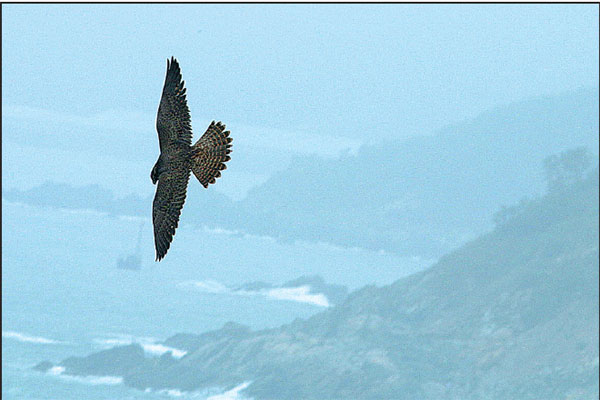 A peregrine falcon hovers over the coast in Lyushun, Dalian, on its migration to its winter grounds.Chen Liang / China Daily
Third annual bird-watching race attracts enthusiasts from China, UK, Germany and Russia
Just before John Donegan-Cross left his native Edinburgh to move to China this fall, his grandmother handed him a guidebook - not about the country, but about its birds.
He arrived at Beijing's Peking University to study Mandarin two months ago, and since then has taken every opportunity to travel the country to "see lovely places and meet interesting people" as well as "learn all about local birds".
Armed with a telescope, camera and his trusty guidebook, the 21-year-old Briton was among dozens of competitors who took part in this year's Dalian Lyushun International Bird-watching Race.
The event, now in its third year, was held from Oct 20 to 22 on the southernmost tip of the Liaodong Peninsula, a well-known spot for bird-watching in northeastern China.
Every fall, tens of millions of migrating birds - birds of prey, songbirds and water birds - make a stopover in the peninsula before flying south across the Bohai Sea to their winter grounds.