New industrial era boosts technical schools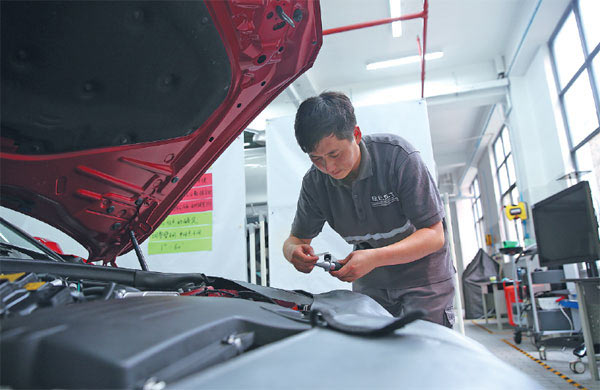 Ma Fuxiang checks an engine during a vehicle maintenance course at Yunnan Transport Technician College in Kunming, Yunnan province.[Photo by Hou Liqiang/China Daily]
Nearly 20 years after the sector entered a decline, skills-based learning is making a comeback.
The prospects for the nation's vocational schools, the traditional centers of technical education, are becoming brighter as a result of government calls for a renewal of the "Spirit of Craftsmanship" and the growing influence of the Made in China 2025 initiative.
However, although the number of enrollments is rising, vocational schools are still failing to attract quality students, and many young people only consider them as a last resort if they fail to gain a place at university.
Experts are concerned that prejudice against the schools will hinder attempts to establish teams of skilled workers to implement the initiative, which was introduced in 2015 to improve manufacturing innovation, strengthen the industrial base and promote breakthroughs in the high-tech sector.
Moreover, they say a lack of qualified teachers could exacerbate the situation.
The problem has its roots in reforms to technical education that started at the turn of the century when the government abolished a number of support policies.
Those advantages included free tuition for students, who were also given subsidies and were guaranteed jobs when they successfully completed their courses.
Traditionally, the schools specialized in subjects such as auto maintenance, welding and woodworking.
Now, however, they are now increasingly focused on advanced technologies, such as computer-aided design and the use of numerically controlled machine tools.
"Before 2000, we never had to worry about recruitment," said Yang Jingyuan, president of the Yunnan Transport Technician College in Kunming, Yunnan province.
In the aftermath of the reforms, the technical education sector began to wane and the bustling college, which covered 80 hectares, was almost deserted, Yang said.
The reforms saw technical schools lose most of the advantages they had enjoyed, meaning they either had to adapt to the new conditions - a total absence of government support - or die.
Yang recalled that as the number of students plummeted, every member of staff was mobilized as part of a recruitment drive.
However, their efforts failed and soon there were just 600 students on the campus rather than the full complement of 4,500.
"We had to go to high schools far and near to recruit students, but we were often given the cold shoulder," he said.
High school principals were contacted so frequently that a joke quickly began to do the rounds: "Special precautions should be taken against fire, thieves and technical school recruitment officers."

Editor's picks