Xi: Nation will stick to opening-up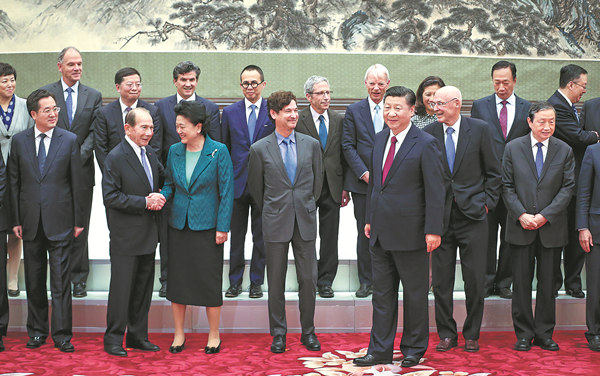 President Xi Jinping meets with members of the Advisory Board of Tsinghua University School of Economics and Management at the Great Hall of the People in Beijing on Monday. WU ZHIYI / CHINA DAILY
President receives foreigners for first time since 19th Party Congress
China will firmly stick to the basic national policy of opening-up and pursue win-win cooperation while safeguarding the country's sovereignty, security and development interests, President Xi Jinping said on Monday.
Xi made the remark while meeting with members of the Advisory Board of Tsinghua University School of Economics and Management at the Great Hall of the People in Beijing. The members include foreign and Chinese entrepreneurs, academics and former officials.
It was Xi's first meeting with foreigners after his re-election as general secretary of the Communist Party of China Central Committee at the First Plenary Session of the 19th CPC Central Committee last week.
Xi told the members that the recently concluded 19th National Congress of the CPC had great significance, boosting Chinese people's confidence of continuing with the path of socialism with Chinese characteristics.
Saying that China is deepening overall reform with unprecedented determination and force, Xi vowed to continue to promote reform and opening-up.
China has not only benefited from but also contributed to economic globalization, Xi said, adding that China's development means opportunities for the world.
China will not seek to take advantage of other countries but will pursue win-win cooperation, Xi said, while pledging to take more measures to boost opening-up.
The president pointed out that China sticks to the path of peaceful development, proactively participating in the reform and construction of the global governance system, and pushes to build a community of a shared future for mankind.
Xi also highlighted the importance of education, saying that China's education system aims to train builders and inheritors of socialism with Chinese characteristics.
Commenting that he is looking forward to the upcoming meeting with US President Donald Trump, Xi said China would like to make joint efforts with the US to take each other's interests and concerns into consideration, dissolve disputes and contradictions, and engage in win-win cooperation.
During the meeting, some members of the board made speeches to express confidence in the Chinese economy and extended congratulations to the Party's 19th National Congress.
Tim Cook, CEO of Apple Inc, said at the meeting that Apple looks forward to "continuing to be in China and working together on a very prosperous future".
"Innovation and technology come from openness and collaboration. I'd like to strongly encourage China to continue to open wider to the outside world," he said.