Chinese submersible sets records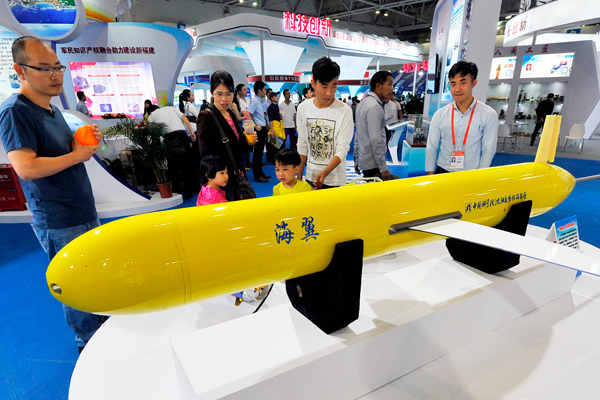 A model of Haiyi1000 is displayed at a cross-Straits trade fair in June. Zheng Shuai/China Daily
An underwater glider developed by Chinese scientists has set records for the country, working continuously for the longest time and completing the longest journey in a single mission.
Haiyi1000, developed by the Chinese Academy of Sciences' Shenyang Institute of Automation, was recently plucked out of the South China Sea after completing its underwater mission to collect ocean data on a journey of 1,884 kilometers over 91 days.
The new endurance mark doubled past Chinese gliders and makes China the only country besides the United States with the ability to conduct ocean monitoring and surveillance lasting more than three months in a single mission, according to a report by China Central Television on Sunday.
The successful mission of Haiyi1000 suggests that China can create a new-generation network for monitoring the ocean's environment, the report said.
The glider was launched in the northeastern South China Sea by a scientific research vessel on July 14. After completing missions with 11 other gliders, it alone remained in the water to provide researchers with a real-world endurance test.
During the 91 days, the glider successfully coped with treacherous conditions brought by five typhoons, proving its reliability and stability, the report said.
Yu Jiancheng, a researcher at the institute, which is in Shenyang, Liaoning province, told CCTV that underwater gliders differ from traditional underwater robots in that they do not have propellers. Instead, they are equipped with devices that function similar to an air bladder in some species of fish, which helps them rise or sink and enables them to move forward with less energy consumption.
Another underwater glider, Haiyi, also developed by the Shenyang Institute, reached a depth of 6,329 meters in March, breaking the previous record of 6,003 meters held by a US device, the CAS said in March.
With its ability to reach 6,000 meters, Haiyi allows Chinese scientists to explore 97 percent of the maritime space, the science academy said.
wangxiaodong@chinadaily.com.cn

Editor's picks