Graduates to enjoy lower home prices in Wuhan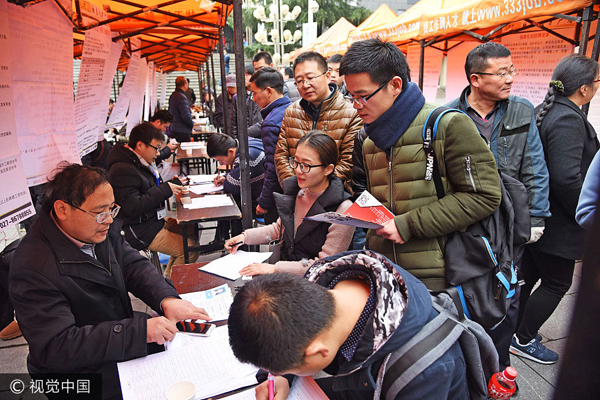 Job seekers at a job fair in Wuhan, Hubei province, on Feb 2, 2017. [Photo/VCG]
Wuhan, the capital of Central China's Hubei province, has issued a series of measures to attract college graduates, including allowing them to buy and rent a home at lower prices.
The city will strive to "let more graduates buy or rent a home at prices 20 percent lower than market prices," said a spokesperson of the city government. The city will also provide more affordable houses and low-rent homes to college graduates.
The city will soon start the construction of a model community called "Yangtze Youth City" to cater to the needs of graduates, the spokesperson said.
Wuhan has also set minimum annual salary standards to attract university graduates, which makes it the first city in China to take such a move.
The minimum annual salary is set at 40,000 yuan ($6,150) for vocational college graduates, 50,000 yuan for university graduates and 60,000 yuan for graduates with master and doctoral degrees.
The salary standards are higher than many cities of similar size and are much higher than Wuhan's yearly minimum wage of 22,000 yuan.
The city also offers preferential treatments to college graduates in residence registration.
Graduates with master and doctoral degrees will no longer be limited by age to get residence registration in the city, and the age limits for university graduates and vocational college graduates will be extended to 40 years old from current 30 years old.
The official statistics show that until September, the number of graduates that have settled down in Wuhan increased threefold from last year.

Editor's picks