Hero takes big step after crippling accident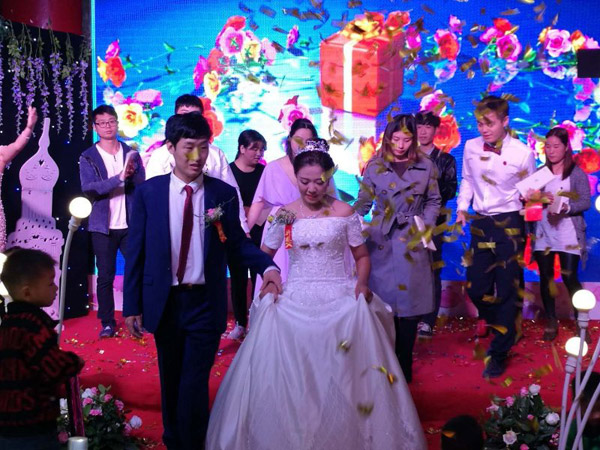 Li Boya's wedding was held in Lushan county of Pingdingshan city, Central China's Henan province. [Photo by Qi Xin/provided to chinadaily.com.cn]
A hero's wedding was held in Lushan county of Pingdingshan city, Central China's Henan province, with many people sending their blessings to him on Oct 5.
Li Boya's story dates back to 2012.
Five years ago, Li was an intern with the railway police when he tried to stop a middle-aged man from jumping onto the rails as a train approached. However, both of Li's legs got crushed as he heroically tried to save the man in Changli county, North China's Hebei province. The accident changed his life forever.
He met Zhang Ying, a nurse, in hospital.
He said: "She is kind, virtuous, filial and beautiful, and she encouraged me whenever I was upset. I'm lucky that I'm marrying her," the 25-year-old said proudly.
During the past five years, Li has undergone amputation surgery, artificial limb installation and rehabilitation training, enduring the pains that many would find unimaginable, but he remained optimistic and positive.
At the wedding, he got out of the wheelchair, stood up and walked on his artificial limbs like any other person step by step.
Currently, he works at Railway Police College, his alma mater in Zhengzhou, the capital city of Henan province.