Investment in technology set to soar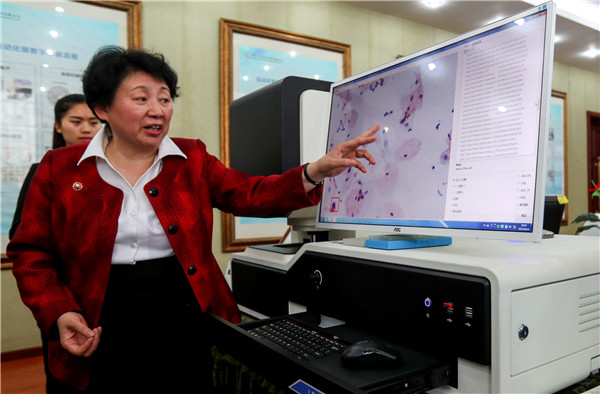 Aphysician uses an AI robot for cancer treatment in Hubei province.[Photo by Zhang Chang/For China Daily]
Artificial intelligence will penetrate China's healthcare sector more extensively in the coming years, according to a report by 51CTO, an information technology company in Beijing.
This year, the value of AI applications in the healthcare sector is expected to exceed 13 billion yuan ($1.9 billion), a year-on-year rise of more than 40 percent, and the figure is likely to rise to 20 billion yuan next year, the report said.
The report, released in June, was based on responses to 5,465 questionnaires sent to hospitals, businesses engaged in AI and healthcare, and investment companies across the country.
It shows that more than 78 percent of the country's healthcare providers are either using, or are planning to use, AI, while more than 76 percent of providers believe AI will be used extensively in healthcare in the future.
The technology will be applied extensively in three major fields in the near future - wearable devices, the analysis of medical graphics such as X-rays, and dictation software to help doctors write reports and notes, the report said.
The integration of AI and healthcare has great potential in China as a result of the unbalanced distribution of healthcare resources and the large number of patients. In recent years, AI has developed massively, which will promote its use in the healthcare sector.
However, the development of the healthcare sector faces obstacles, such as a lack of adequate supervision, immature technology, poor safety levels and a lack of exchanges between researchers and developers, the report said.

Editor's picks