Use of AI to grow in nation's medical sector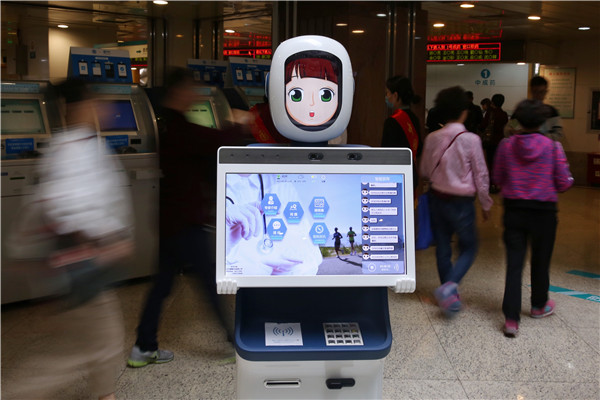 The first AI healthcare robot is introduced at a hospital in Hangzhou, Zhejiang province. [Photo by Long Wei/For China Daily]
Technology is set to play a greater part in diagnosis and treatment, as Wang Xiaodong reports.
China will promote the application of artificial intelligence technologies in the healthcare sector to improve services for patients, especially at the grassroots level, according to the nation's top health authority.
"Further improving the quality and efficiency of medical care is an important task for health authorities," said a statement released by the National Health and Family Planning Commission.
"Practices at home and abroad have proved that intensified application of AI in assisted medical care can effectively increase the efficiency of services and provide-patients with convenient access. In particular, the application of AI can be an effective means of improving the capabilities of grassroots medical care providers and promote equality in the services offered," the statement said.
In China, AI technologies are being used in a number of areas, including remote care services, assisting diagnosis and treatment, and improving health management through wearable devices, according to the commission.
Globally, AI is being used widely in healthcare, including disease prevention, health management, assisted diagnosis and the management of chronic diseases. It is also growing rapidly in areas such as the research and development of drugs, dietetics and the management of emergency centers and hospitals, the statement added.
The commission has published a range of guidelines and rulings to promote and regulate the development of AI so the technology will contribute to the establishment of a tiered healthcare system and help improve services.
According to a guideline on the development of AI released in July by the State Council, China's Cabinet, the government will encourage the innovative application of the technology in healthcare and elderly care to provide customized, diverse and high-quality services.
A report published by Yiou Intelligence, a technology think tank in Beijing, shows that by the end of July, 131 companies were engaged in developing and researching AI for healthcare, and 76 percent of them were in Beijing, Shanghai and Shenzhen, Guangdong province.
Evidence-based work
Zhang Xiaochun, an oncologist at the Affiliated Hospital of Qingdao University in Shandong province, is placing greater emphasis on the use of a platform called Watson for Oncology, developed at the Memorial Sloan Kettering Cancer Center in New York.
Zhang, who is also vice-president of the university's medical group, uses the cognitive computing platform to provide oncologists with evidence-based treatment options.
Since the platform was introduced in April, it has become an effective aid for the treatment of Zhang's patients. Treatment options for lung cancer patients recommended by the platform are more than 96 percent consistent with those offered by the hospital's experts.
Watson for Oncology entered the Chinese mainland in March, when its maker, the US technology company IBM, signed a partnership agreement with Baheal Pharm, an e-health company in Beijing, to introduce it to the nation's medical institutions.
The platform can identify personalized treatment options, has access to oncological expertise and draws knowledge from more than 300 medical journals, 250 textbooks and nearly 15 million pages of text, IBM said.
It also ranks evidence-based treatment options by linking to peer-reviewed studies and clinical guidelines.
The platform, which has the ability to learn, has been designed to assist clinicians in developing treatment plans for breast, lung, colorectal, cervical, ovarian, gastric and prostate cancers, according to IBM.
Zhang said when she used the platform to change a drug prescription for a lung cancer patient in Beijing, the patient's tumor reduced.
"The system can provide patients with standardized, precise treatment options," she added.
However, she noted that the system is not yet fully mature and is unsuitable for patients with related serious problems, such as those who have developed a resistance to certain drugs.
"I think it may be more useful in grassroots hospitals in rural areas to guide doctors in the treatment of cancer," she said.
Zhang added that the platform can also be used to provide general training for younger, less-experienced physicians.
According to Baheal Pharm, Watson for Oncology has been used in 24 hospitals in 18 cities, including Qingdao, Shijiazhuang in Hebei province, and Nanjing in Jiangsu province.
Fu Gang, Baheal Pharm's chairman, hopes the platform will be promoted in more grassroots hospitals to aid treatment.
"Although doctors at large hospitals in cities such as Beijing and Shanghai can provide quality medical care for cancer patients, many establishments in smaller cities and counties are unable to provide standardized treatments," he said.

Editor's picks