Foreign faces win netizens' hearts
Israeli student among growing group of expats hitting the big time with online shows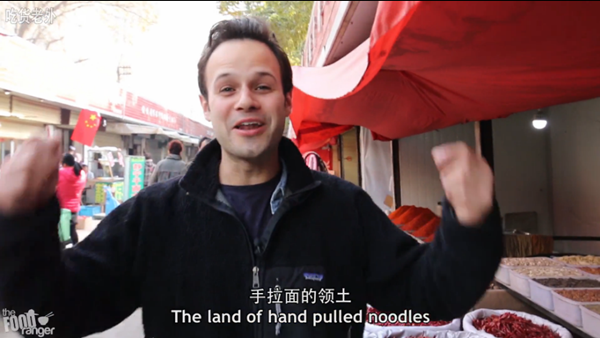 Canadian foodie Trevor James appears in his online show, The Food Ranger, which he has been uploading to YouTube and Bilibili for four years. Provided to China Daily
It's late afternoon on a warm summer day, and crowds of excited young Chinese people are gathered inside a cafe near Zhongguancun, the so-called Silicon Valley of Beijing. Shortly before 5 pm, the place erupts in deafening cheers.
Raz Galor has entered the building.
The 24-year-old Israeli internet star holds up a smartphone to capture the reaction before settling down with about 100 fans for an evening of playing games, signing photos and answering questions.
Galor has been hot property since December when he started hosting a video series called The Foreigners Research Institute. Each episode lasts under five minutes and features on-street interviews with expatriates in China about cultural quirks and the latest trends.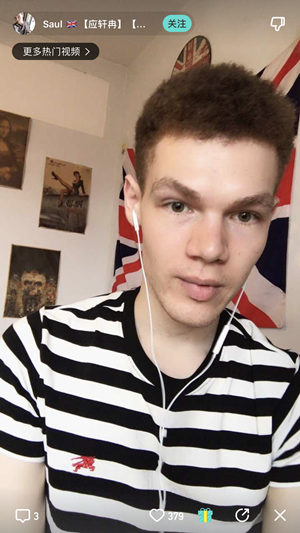 Saul Stollery, a Tsinghua University graduate from the United Kingdom, livestreams to audiences in China using the Inke app. Provided to China Daily
The first video racked up more than 4 million views across multiple social media platforms, including Youku, Sina Weibo and Bilibili. Since then, Galor-known locally as Gao Yousi-has produced over 50 more episodes and gained more than 5 million online followers.
Yet despite his fame, he resists the label of "internet celebrity", or wanghong in Chinese.
"I'm not a wanghong, I'm an entrepreneur," said Galor, who runs a production company with two Chinese partners, and is also a senior at Peking University majoring in international relations.
"Rather than wanghong, who usually generate content from individual opinions, I want to build a platform where a group of people-in my case, foreigners-can share thoughts and experiences," he added.
His profile on the social networking website LinkedIn describes his show as "the largest online video channel for the Chinese audience to understand the young generation of foreigners in China".
'Foreigner 2.0'
To make an episode of the show, Galor and his crew spend two or three days on the streets of Beijing interviewing 30 to 50 foreigners. Only the 10 to 15 who "really say something interesting" make the final cut.
One video featured Lila Kidson, a classmate of Galor from the United States, who talked about Chinglish, which is English influenced by Chinese speakers. The appearance instantly propelled her into the public eye, and her followers on Sina Weibo soared close to 100,000.
Galor said making foreigners famous-including himself-was not his intention, yet he acknowledged that fame is good for business.
After the buzz generated by The Foreigners Research Institute, his production company received 10 million yuan ($1.51 million) in investment from Will Hunting Capital, which has previously financed bike-sharing company Ofo.
Fang Yedun, one of Galor's business partners, is a Peking University graduate and former classmate of Dai Wei, the chief executive of Ofo. He and Galor began thinking about business ideas in 2014 after seeing a surge in startups across Zhongguancun.
Initially they made videos largely about sports. However, they soon discovered the most popular episodes were those in which foreigners talked more generally about Chinese society or food.
With the help of another friend, Fang and Galor decided to switch focus and devised The Foreigners Research Institute, releasing the first episode on Dec 16.
Galor attributes the show's success to the fact it captures the era of "foreigner 2.0", a term he uses to describe the younger generation of expats who, unlike some who arrived in the 1980s and early 1990s, are open to contemporary Chinese society, can speak Mandarin and understand the subtleties of Chinese humor.
His father, Amir, who came to China 15 years ago to start Infinity Equity, the nation's first foreign equity company, belongs to the "foreigner 1.0"generation, Galor said.
Yet there is at least one thing these two generations can agree on-that China is a gigantic market that offers a range of opportunities for any business.