Smaller, low-calorie mooncakes popular as Chinese avoid extravagance, overweight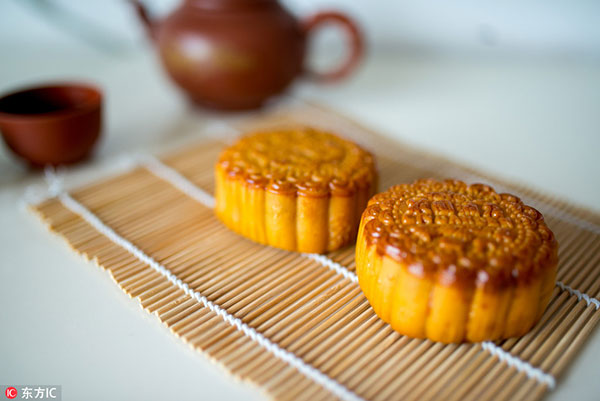 This photo taken on Oct 2, 2017 shows mooncakes in Yichang, Hubei province. [Photo/IC]
HEFEI - Mid-Autumn Festival falls on Wednesday this year. For Chinese, the day may not be complete without eating a mooncake with family while gazing at the full moon.
However, mooncakes are high in sugar and fat, not ideal for anyone wanting to loose weight. One mooncake can have over 450 calories - the equivalent of about three bowls of rice.
To find balance between treating yourself and maintaining good health, many brands have started selling smaller mooncakes this year.
Traditionally, a mooncake weighs about 120 to 150 grams, but in the online store of Daoxiangcun, a traditional Beijing-based brand, the biggest mooncake on sale is just 110 grams. Most of its mooncakes are below 85 grams and cost about seven to 10 yuan each (about $1 to $1.5).
"We can try more flavors if the cakes are smaller," said a Beijing customer.
THINNER OUTSIDE
Not only is the size of the mooncakes decreasing, but the packaging is also "shrinking."
About a decade ago, mooncakes were seen as luxury items. Their packaging was like that of high-end jewelry, some even had jade embedded on the boxes. Many were sold together with expensive liquors.
Expensive gift boxes of the small round pastries with, in most cases, sweet filling, became associated with corruption, subtle bribery and extravagance as companies and individuals exchanged them with customers and business partners to build relationships.
In 2005 and 2008 respectively, the central government issued two documents, prohibiting overpackaging of mooncakes. The documents demanded the packaging of the cakes be no more than three layers, and should make up less than 12 percent of the total price.
Five years after the Chinese government established a frugality code rejecting extravagance and excessive formalities among Communist Party members and government workers, lavish mooncake gift sets began to disappear from the market. Mooncakes started to return to their origin as an affordable dessert for family gatherings.
Statistics from Suning.com, an e-commerce platform, showed that the sales volume of mooncake gift sets priced from 200 to 300 yuan ($30 to $45) declined by 17 percent this year, while that for cheaper mooncakes surged by 25 percent.
JD.com, another leading e-commerce company, said that its sales volume of luxury mooncake sets is down 75 percent from last year, while that of regular boxes rose by 21 percent.
At Guangzhou Friendship Store, a salesperson said that many customers prefer to buy mooncakes in bulk, which costs much less than purchasing gift sets.
Wang Fen from Qiaojiashan Bakery, the largest mooncake producer in Jiangxi Province, said that upscale mooncake gift sets priced over 300 yuan contributed less than one percent of their total sales this year.
"As mooncakes are no longer public expenses, there is no market for luxury mooncake gift sets," said Xu Hang from Tianjin-based Nankai University.