Retired police dogs still being of service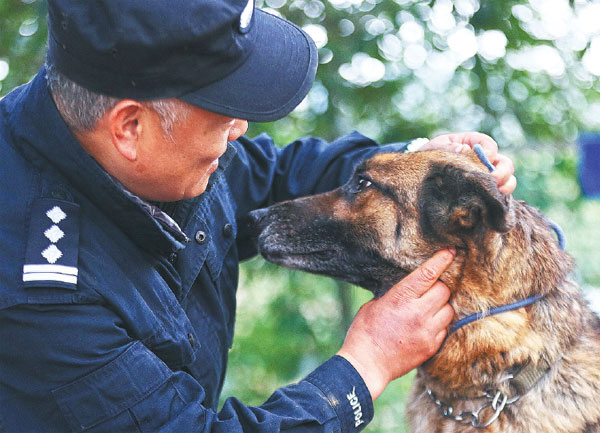 Bai Yan, a policeman in Hangzhou, Zhejiang province, performs a daily health check on Gongzi. Photos Provided to China Daily
Officer dedicates his time to caring for canines
"Xiaolong, jump!"
"Xiaolong, rescue!"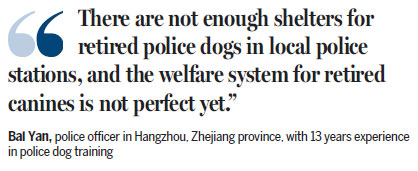 Xiaolong, a 10-year-old retired police dog, reacted to the verbal instructions and hand gestures given by his handler, Bai Yan, on the TV show Brilliant Chinese.
Bai continuously encouraged his old "comrade" with words like "well done" and "good boy" as Xiaolong gnawed a rope with his teeth during a hostage rescue mission.
"It was his favorite mission during his service in the unit. He could bite through the rope in only five seconds! Now, it takes longer but we play the game just for fun," Bai said with a sigh.
Xiaolong, a Great Dane and Malinois cross, was adopted by Bai and was trained and worked in the police dog unit for 8 years.
He is spending his remaining years with 15 other peers in a retired canine home founded by Bai in Hangzhou.
"Nursing retired police dogs is different from taking care of seniors," said Bai, 55, a policeman in Hangzhou, Zhejiang province. "It is necessary to play with them in order to maintain their physical and mental health."
Back in 2004, Bai attempted to organize the first canine unit for the local police station because of the great help dogs can offer.
Twenty-six police dogs, including German shepherds, Malinois and Labradors, were recruited in Bai's brigade through a strict screening process.
The canine force was used in a wide variety of duties including patrol, search and detecting illicit substances.
With more than 3,000 missions on average, these well-trained police dogs were regarded as heroes by Bai and his colleagues.
"One time we tracked suspects with a dog on the highway. The suspects noticed us and sent three of their accomplices to attack us," said Bai. "But they didn't know we had canines in the van. The canines pounced on them and subdued them soon after I sent the order."
Kaxi, a German shepherd, was honored as a "meritorious canine" by the department of public security of Zhejiang province in 2009 for helping crack over 200 cases and arrest more than 80 suspects.
Police dogs retire from the squad after eight to 10 years of service.