High-tech help for autistic kids: Robots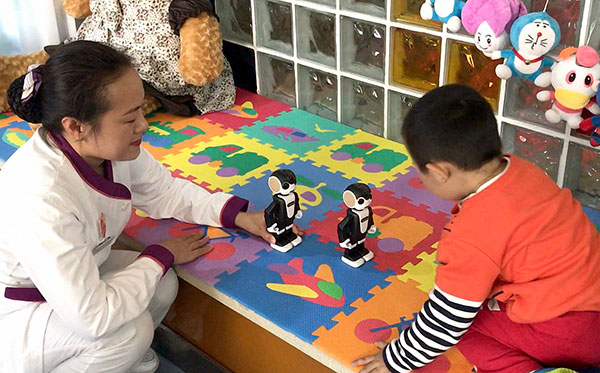 A child with autism interacts with robots at Harbin Children's Hospital, as part of an innovative approach to treatment. [Zhou Huiying/China Daily]
A hospital in Northeast China is using robots and artificial intelligence to help treat children with autism.
Since its opening in mid-September, the E-Medical Artificial Intelligent Cognitive Rehabilitation Center at Harbin Children's Hospital in Heilongjiang province has received about 30 children with autism who will undergo advanced treatment assistance through one of its 10 robots.
Each robot-all take the name RoBoHoN-is about 33 centimeters tall and looks like a friendly cartoon character. With a childlike voice, it can sing, talk and carry on a simple conversation as it engages young patients. Doctors at the center believe the robots will perform an important role in encouraging the children to speak. Results will be evaluated in three to six months.
"My son repeats himself and has great difficulty communicating with others," a mother surnamed Zhang said of her autistic 6-year-old son, who began a training program at the hospital a year ago.
"I found he liked the robot very much, although he didn't talk with it," she said. "I hope he'll experience some positive changes with the help of robots."
The center is said to be the first in the country to use robots to help treat children with autism.
Autism is a neural disorder that causes difficulties in social interaction and communication. Sufferers usually have restricted, repetitive behavior patterns.
The genetic disorder affects about 1 percent of the world's population. In China, more than 10 million people have autism. Of those, more than 2 million are under age 14, according to a report on the development of autism rehabilitation techniques.
"We are in urgent need of ways to treat autism," Yang Guangxue, director of the Autism Research Center at East China Normal University, said during a forum on autism at the hospital.
"It is estimated that the number of children with autism will continue to increase in the next few years."
Li Huaining, deputy director of the hospital, said the number of afflicted children has been increasing. "Now, every month, we receive about 70 children for treatment and rehabilitation."
To meet the increasing demand, the RoBoHoN robots were developed by Harbin Children's Hospital and Harbin E-Medical Technology Co to assist doctors and parents.
They fulfill important tasks at home, such as tracking a child's health, providing reminders to take medicines, providing comfort for lonely children and sending medical data to doctors.
Further, parents have access to long-distance medical consultations through the robot. Taking a robot home costs about 20 yuan ($3) per day.
According to the company, the technology used in the robots will be widely applied in sectors such as online medical treatment in the future.

Editor's picks