Photo of bailiff feeding defendant's baby goes viral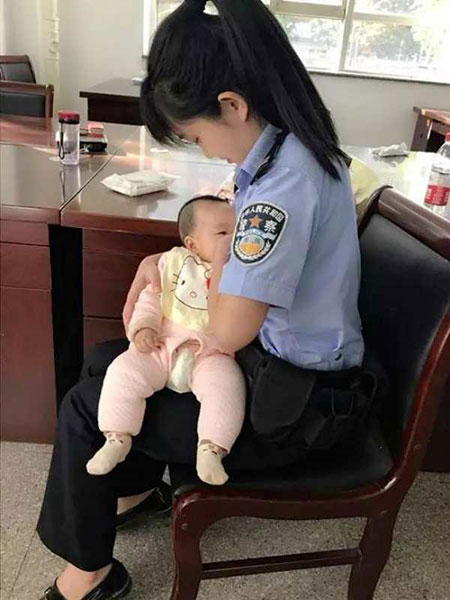 Photo of the bailiff breastfeeding the baby went viral. [Photo provided to chinadaily.com.cn]
A photo of a young bailiff breastfeeding a defendant's baby recently went viral and generated lively discussion.
Hao Lina, the bailiff of intermediate people's court in Jinzhong city, North China's Shanxi province, is a young mother. During a trial in September, a defendant's four-month-old daughter was in the lounge and Hao was asked to take care of the baby.
But at nursing time the baby began crying. However, the mother was unable to feed her as she was facing trial. Seeing this, Hao decided to breastfeed the defendant's daughter.
The sweet and warm scene between Hao and her "daughter" was captured on a mobile phone. After the photo was posted on social media, it went viral in a short time and generated lively discussion.
Over 10,000 people left comments and around 100,000 liked the photo. Hao was highly praised and named "the most beautiful bailiff".
Some internet users appreciated Hao's kindness and selfless love, while others applauded the beauty of motherhood. Many netizens also praised the court's people-oriented arrangement and service.
When asked about feeding the baby, Hao said she empathized with the defendant. "I am a new mother who is in the lactation period. I felt the same way about the baby as her own mother would. I wanted to comfort her," said Hao.