Swap shop gives secondhand goods a new lease of life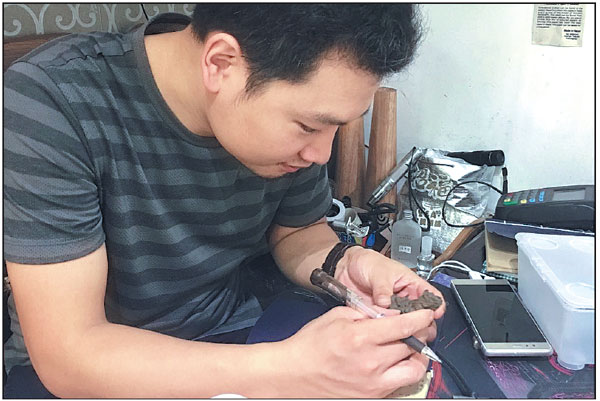 Zhang Neng checks a handicraft item in his swap shop in Guangzhou, Guangdong province. Liang Fengxin/China Daily
Customers can trade in old or unused belongings to build up credit with the store
While the internet has reduced buying and selling to just a few clicks, Zhang Neng prefers to do things the old-fashioned way. His store, called Happiness, allows people to exchange goods.
"This shop is sometimes filled with customers," said Zhang, who keeps handwritten notebooks of all the transactions at his 30-square-meter store in Guangzhou, capital of Guangdong province.
"Many people have a pile of unused items at home and don't know what to do with them. Throw them away? Big waste. Through my store, people can exchange their items."
The store, which is on the first floor of an apartment building in Tianhe district, takes almost anything - except big items, clothes, shoes or stuffed animals - at prices set by Zhang. Customers build up credit to acquire items, but can also pay for them in cash.
Cao Shiqi, a college student and frequent visitor to the store, brought some decorative items that were valued at 59 yuan ($9), hoping to build up enough credit for a Nepalese ring priced at 380 yuan.
"This store has many items not seen elsewhere. I'll keep exchanging until I get the ring. I hope the store will have more foreign items and that people don't consider secondhand things dirty. Actually, some items are old and valuable," she said. Cao got the ring a week later.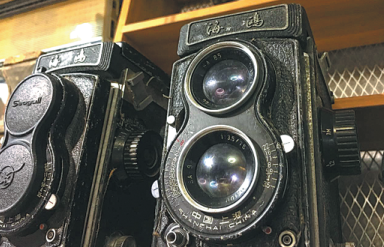 Two secondhand Seagull cameras displayed in the shop. Liang Fengxin/China Daily
Cao, who used to work in export business and lives nearby, drops into the store every time she passes.
"I have brought many things to the store - a pottery dog, some other ornaments and a musical instrument my child used to play. I've taken away many things, too, including a new electric kettle, a music player, a beautiful pair of sunglasses, and a lamp," she said.
"Many people pay little attention to secondhand things but lots of things can be reused."
A Chinese writer living in the United States brings things he has collected to the store every time he returns to the city. Collectors like him sell things so they have money to collect more, Zhang said.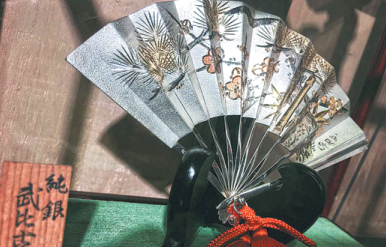 A silver-boned folding fan on sale in the shop. Liang Fengxin/China Daily
The store has received some items that might appeal to collectors such as a 1920s telephone and decorative home ware from the 1950s.
The prices these items fetch has made some people think twice about what they have at home, and this has prevented them from trading those items randomly. Zhang has held on to some of the things he received early on. To increase his stock, Zhang also visits old goods markets in Guangzhou to source interesting finds. However, he tends to avoid valuable items, "otherwise, we would become a pawnshop".
The businessman travels a lot and likes to collect souvenirs on his trips. He started his store five years ago after he spotted a similar venture in Beijing. The store's earnings roughly cover its operational costs, and it is now run by a manager, as Zhang has a bar and also plans to open a Japanese-style restaurant.
"The profit margin is low, but as long as I can sustain its operation, I'll keep running the store. I enjoy the feeling of having such a store. I haven't seen anything similar elsewhere in Guangzhou."
Zhang said he wants to transform the store into a charitable operation, taking in donated items and selling them at low prices to people in need, with jobs offered to people with disabilities.
Gu Caijuan contributed to this story.
liwenfang@chinadaily.com.cn