Beijing makes way for high-tech trains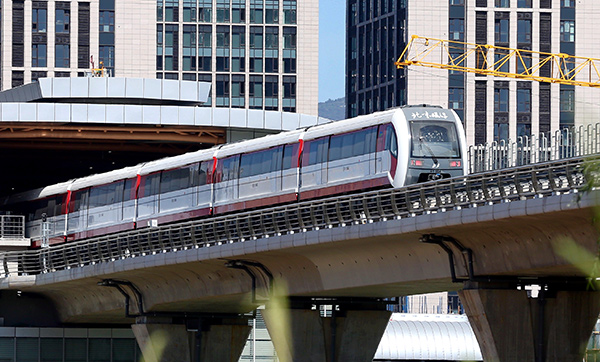 A maglev train on Beijing's S1 Line makes a trial run on Wednesday. The line is expected to open to passengers by the end of this year. [Photo by Wang Zhuangfei/China Daily]
Three new lines begin their trial runs, with passengers to come by year's end
Two high-tech railway lines and a conventional one begin trial runs on Wednesday in Beijing-a driverless subway line, a mid-to low-speed maglev line and a modern tram-all of which are expected to welcome passengers by the end of this year, according to the Beijing government.
The 16.6-km Yanfang Line is the Chinese mainland's first driverless subway made domestically. It has a seating capacity of 960 and a top speed of 80 kilometers per hour. It eliminates the driver's cockpit in favor of intelligent technology for operations and maintenance.
The line connects Beijing's southwestern Yanshan and Fangshan areas, aiming to facilitate economic development.
"This new line will dramatically improve the convenience of transportation for residents of Yanshan who want to go into the city's urban area," said Hu Yunge, a 22-year-old subway enthusiast in Beijing who has focused on developments for 10 years. "I will look for a chance to experience the driverless train, even though my home is far from there."
The 10.2-km S1 Line is Beijing's first mid-to low-speed maglev line, whose top speed is 100 km/h. It links the city's western districts of Mentougou and Shijingshan. Passengers will be able to ride the entire line in less than 20 minutes.
Maglev trains don't have wheels but rely on electromagnetic forces. Carriages are elevated about 1 centimeter above the tracks, considerably reducing friction and providing a smooth ride.
"People care more about the safety and comfort brought by high technology than about the technology itself," Hu said.
The West Suburb Line, Beijing's first modern-albeit conventional-tram, which has been built in Haidian district on the city's west side, also began test runs. Some say it's the best line for sightseeing because it passes eight attractions, including the Summer Palace, Beijing Botanical Garden and Fragrant Hills Park. It runs mainly at ground level, but may rise or go underground as the road system requires.
Zhang Zhi, 22, a graduate of the University of International Relations near the Summer Palace, said the tram is a good project that will benefit people in the area immensely.
"Last weekend I went to the Beijing Botanical Garden on an extremely crowded bus, which bounced for a long time over rough roads. The tram will help relieve this," Zhang said.
Currently, Beijing's urban railway system has 19 lines totaling 574 kilometers. That will grow to 608 kilometers once the three new lines are fully operational.
Jiang Chenglong contributed to this story.