Beijing gears up technical, parking rules for shared bikes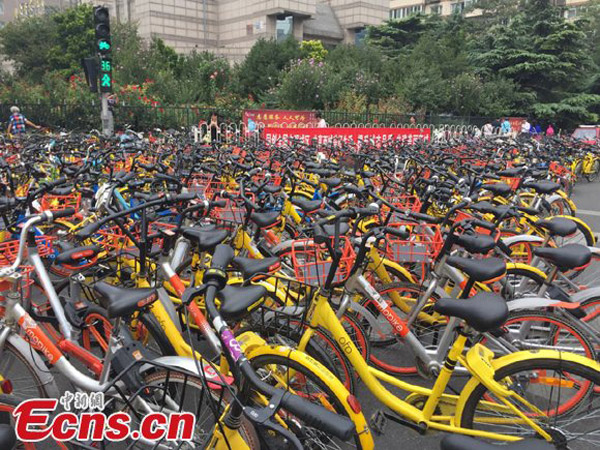 Shared bikes clutter a street in Xicheng district, Beijing, Sept 15, 2017. [Photo/Ecns.cn]
(ECNS) -- Beijing has required shared bikes to be updated or scrapped from service after they have been in use for three years as the city introduces more rules to regulate the two-wheelers.
The Beijing Municipal Committee of Transport said on its official Weibo account that two separate rules on technical requirements for shared bikes as well as their parking have been rolled out following the publication of a general guideline issued last week.
Each new shared bike should be tested and proved qualified before being rolled out of factory. Shared bikes that have been put into use should be rechecked annually and unqualified bikes should be recalled, according to the new rules.
Shared bikes need to be installed with GPS with an accuracy error of less than 15 meters and a smart lock, while information on a bike's location, in-use time and locking status needs to be streamed to the company's database.
Each bike should have a clear, permanent steel seal, including a unique code number. All new shared bikes need to pass a quality test and will have a three-year lifecycle.
Companies that provide shared bikes need to facilitate parking by providing a digital map to users depicting where parking is allowed or forbidden.
They also need to maintain real-time monitoring on bike use and report the data to government platforms for supervision.
With Beijing's 15 bike-sharing companies together operating 2.35 million bikes across the city, new additions have been banned.