'Red Notice' fugitive returns to China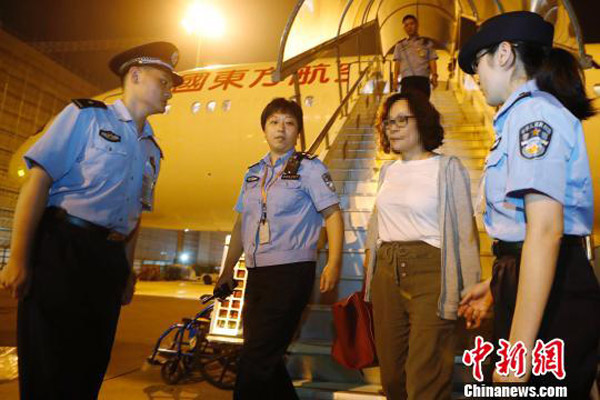 A female fugitive wanted for graft under an Interpol red notice steps down from a plane at an airport in Shanghai on Sept 19, 2017. [Photo/chinanews.com] 
SHANGHAI -- A female fugitive wanted for graft under an Interpol red notice returned from the United States to China and turned herself in on Tuesday, said Shanghai police.
The 59-year-old suspect surnamed Min was previously a saleswoman at a cable company in Shanghai. She was accused of embezzling 300,000 yuan ($45,800) of the company's fund and fled to the United States in 2001.
In 2014, Interpol issued a "red notice" for Min, who has US nationality. She was persuaded by Shanghai police to return and hand herself in. She flew back to Shanghai on Tuesday evening.
The arrest is part of Operation Fox Hunt 2017, a campaign to catch economic fugitives hiding overseas. This year, Shanghai police have arrested 64 suspects under the operation.