Teacher shares growing passion for paper folding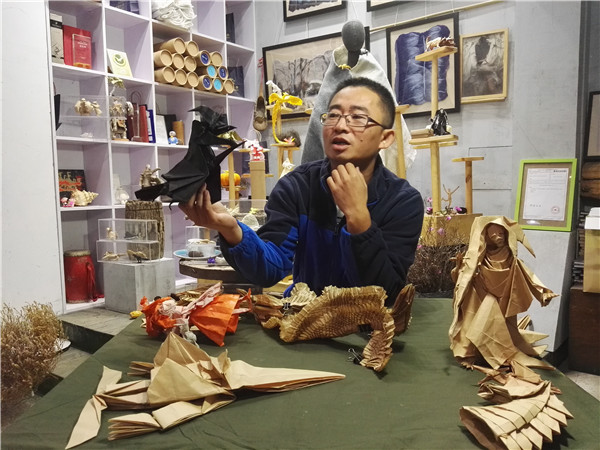 Qiang Shengwu displays his origami works at his home in Yiminhe township, part of Hulunbuir in the Inner Mongolia autonomous region. [Photo provided to China Daily]
Online origami video inspires art master to impart new skills to students
Without the use of scissors or glue, Qiang Shengwu, brings different sized sheets of paper to life by folding them into works of art with an incredible ability and a driving passion.
Qiang, 40, is an art teacher in a middle school in Yiminhe township, part of Hulunbuir in the Inner Mongolia autonomous region.
"As an art teacher, I like to collect information about art to show to my students," Qiong said. "In the winter vacation of 2013, I happened upon a video of an origami competition in Japan on the internet."
The skill of the competitors amazed him and later he discovered that they were among the leading origami practitioners in Japan.
"I still remember the work in the final," he said. "A competitor created a scene involving waves, a fishing boat, fish and an old fisherman by folding a single piece of paper measuring 3 square meters.
"It's common to see origami cranes, airplanes, boats or even flowers, but I couldn't imagine such a complicated work could be made of paper."
Qiang became obsessed with origami and devoted most of his spare time to it.
"I began to collect everything about origami and learn how to fold paper through videos on the internet," he said. "Fortunately, due to my artistic ability, I didn't spend much time getting the hang of the basics."
After a year's practice, he decided to try to make a copy of Ryujin - a Chinese dragon - a creation by Kamiya Satoshi, a master in Japan who has achieved international fame.
"Folding takes much longer than you expect, usually dozens of days for a work like Ryujin," he said. "But it was an exciting moment when I finished it for the first time, even though it could't compare with Kamiya Satoshi's original work."
After years of practicing origami, he developed a new understanding of the art.
"Anybody can work out a basic design according to a crease pattern, but I think it is more important to think of how to create emotion from paper," he said. "Each piece has its own unique character and the intricate detail cannot be repeated."
He has made a dozen copies of Ryujin over the years and, to him, each is different.