Endangered monkeys arrive in Guangzhou safari park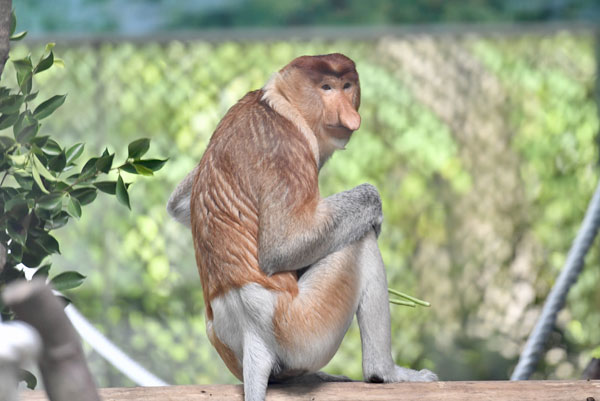 A male long-nosed monkey sits on a tree branch at Guangzhou-based Chimelong Safari Park, Sept 13, 2017. [Photo by Qiu Quanlin/chinadaily.com.cn]
Six proboscis monkeys, also known as long-nosed monkeys, have been introduced from Indonesia to a safari park in Guangzhou, the capital of South China's Guangdong province.
The six monkeys, two males and four females from two families, are currently under a 30-day quarantine period at the Guangzhou-based Chimelong Safari Park.
"They are now in healthy condition and will be meeting visitors soon," said Yang Huohai, deputy director of Guangdong Entry-Exit Inspection and Quarantine Bureau.
The reddish-brown proboscis monkey, with an unusually large nose, is mostly endemic to the Southeast Asian island of Kalimantan. It is considered endangered on the IUCN Red List of Threatened Species, with its population reduced by more than 50 percent in the past 40 years due to habitat loss.
According to the International Union for Conservation of Nature, the world's largest non-profit environmental protection organization, there are only about 1,000 proboscis monkeys in the world.
"Illegal killing and devastating forest have been blamed for the loss of the endangered species in Southeast Asia," Yang said.
qiuquanlin@chinadaily.com.cn