Shanghai and Paris partner in photography art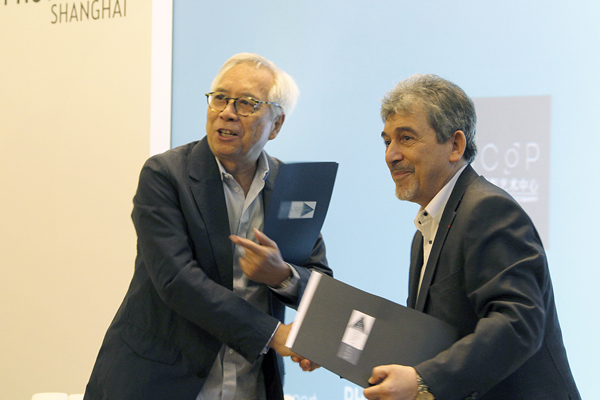 Liu Heung Shing (L), founder and director of the Shanghai Center of Photography, and Jean-Luc Monterosso, founder and director of Maison européenne de la photographie, sign an agreement on promoting the cultural partnership between Shanghai and Paris. [Photo/Provided to chinadaily.com.cn]
Two photography institutions in Shanghai and Paris have joined hands in an effort to enhance cultural exchange between the two cities.
Directors of the Maison européenne de la photographie in Paris and the Shanghai Center of Photography signed an agreement on Sept 8, in a bid to promote the cultural cooperation of the two cities by sharing exhibits and collections of the two institutions, along with introducing other approaches.
The Shanghai Center of Photography, established in 2015 by Liu Heung Shing, a Pulitzer Prize-winning photojournalist, has hosted a series of exhibitions for foreign artists over the past few years.
The Maison européenne de la photographie, which boasts a variety of exhibition programs, has also been dedicated to promoting foreign photography in France for a long period of time.
Bruno Julliard, the first deputy mayor of Paris in charge of culture, said "The agreement is a testimony to the two metropolises' desire to cooperate in culture".