Internet Plus helps target poverty alleviation work in Wugang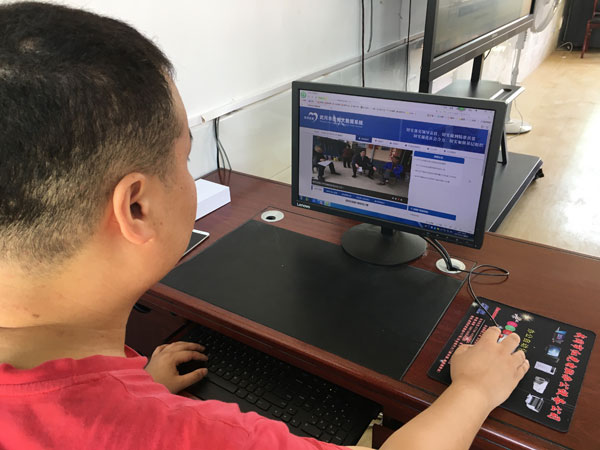 A visitor scrolls through the website of the poverty alleviation data system, Sept 10, 2017. [Photo by Wang Jingjing/chinadaily.com.cn]
With the widespread use of the internet, the use of big data is not exclusive to information technology companies now. Government bodies are also trying to use Internet Plus strategies in government affairs to make their work more transparent and convenient for the people.
The poverty alleviation department of Wugang city in Central China's Hunan province is applying the big data industry to local targeted poverty alleviation work, with a data system invented to involve all related data and information.
According to Liao Qing, a member of the poverty alleviation work group, the data system contains five aspects: information on poor families and poor villages, government information on who is responsible for helping them, the latest poverty alleviation policies and social assistance information.
Based on the targeted poverty alleviation work in Wugang, the system covers local government efforts in areas such as education, medical care, housing, reallocation and industry support.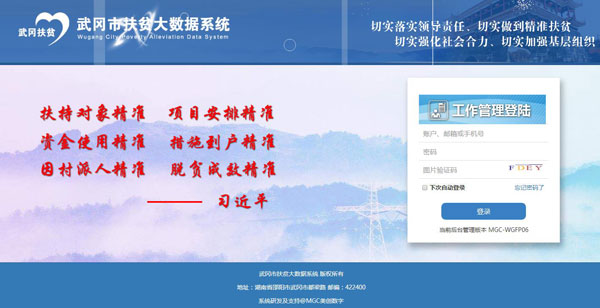 A screenshot shows the login page of the poverty alleviation data system in Wugang city, Central China's Hunan province, Sept 10, 2017. [Photo/chinadaily.com.cn]
The Wugang City Poverty Alleviation Data System is almost completed, and will be launched as soon as possible, Liao said.
Users can find the latest poverty relief policies and the government work, search for the information on poor families or a person on the website. After the website's launch, it will be easier to search for information on the city's poor people, and it will help to make poverty alleviation work more transparent and more open.
Wugang city's goal is to lift 28,000 people out of poverty this year, and help all its poor group out of poverty by 2018.